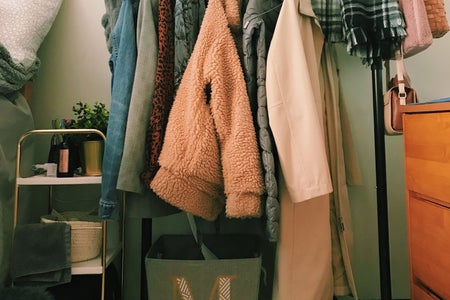 As we head into the autumn season, I can't help but think of one of the most important transition pieces that we reintroduce to our wardrobes. Coats! (or jackets- the terminology is yours to decide but the excitement to bring them back into rotation should be shared amongst everyone). 
I for one am a huge sucker for a good layering piece, which is the whole reason I have more coats than I really have any use for. Amongst my collection I've curated some staples that allow my former summer fits to adapt with the changing of the leaves. Alongside my obsession with layering, is also a need to have pieces that won't be out of style a year or two later, so keep in mind these pieces are on the pricier side (as most coats are) but are capsule pieces to add to your closets. 
Ringing in first, a comeback from the 90's and one of the most desired pieces coming from a former Levi's employee- the Levi's Sherpa Trucker Jacket. This bad boy has been with me for three years and always generates the same comments, "I've wanted one of those for forever", "Where did you buy yours? I can never find them", "I love your jacket". Believe me when I say this piece won't be leaving for a while. It's unbelievably easy to throw on with most t-shirts and sweaters; also, depending on the wash you go for it can easily become a denim-on-denim piece that doesn't make everyone think of Brittany & JT circa 2001. Not to mention it's insulated keeps you warm, because we all know our Canadian autumns quickly turn into winters. 
I don't even think it's fair to label this a second choice or a number two as it's just as essential as a denim overpiece so I'll just say next up- the Babaton Flowy Trenchcoat. As much as I desperately wish I could refer to the classic Burberry trench, it would make me a fraud, so instead I offer a simple (and more affordable) statement piece that is always a go-to throw on. Having any sort of trench is a must-have and a solid, classic trench has the magical feature of being both spring and autumn appropriate. The added flowi-ness of the Babaton piece however can easily take you from business casual to night on the town. (I have also been eyeing Arkett's oversized trench if you're looking for a more staple, classic look and want to be even more ahead of the trench game than I am) 
Another friend to warmth, comfort, and our closets is a wool/plaid utility coat (in this case I'm referring to my BB Dakota Eldridge jacket but I know how hard it is to get your hands on this so I'm being open to other considerations). The Eldridge was something I had been keen on finding the last couple falls, and I just so happened to walk across the very last one in one of yeg's local boutiques. When someone talks about love at first sight I'm sure they mean when you find your perfect autumn jacket because this. is. it. Seriously- this was my GO-TO everyday and despite the abuse on my part that adding this to a basic fit was, everyone (including our male friends) complimented it. Find yourself your best-jacket while bringing in that essential plaid piece to your wardrobe. 
I could go on and on with recommendations, but as jackets get pricey I highly encourage everyone to go thrifting. Thrifting and buying second-hand is an option for everyone and has led me to some gold mines when it comes to jackets (I'm most definitely coming for Blair Waldorf's style with some of these). Don't be afraid to add another jacket or find alternative means to broaden your wardrobe- it's all in the name of fashun.