5 Reasons to Start Dating The Mindy Project
Already into its third season on FOX, The Mindy Project has caught the eyes of people everywhere. Chock-full of drama, meet-cutes, comedy, and awkward situations (sometimes all in one scene), each episode furthers your desire to concoct an elaborate plan to become best friends with Mindy. For all the "Mindians" out there, here is a reminder as to why we fell in love. And for those on the fence, here are just a few reasons why you should fall onto our side; you'll be much happier, I promise.
5. Mindy's Wardrobe
 If watching the life of a successful OB-GYN in New York isn't enough to entice you, then Mindy's style will. Her closet could house another person, if it wasn't packed with expensive shoes, scarves, coats, and countless dresses and skirts. How Mindy is able to pull off the craziest pattern combinations is beyond me, but her outfits always make each scene a little brighter.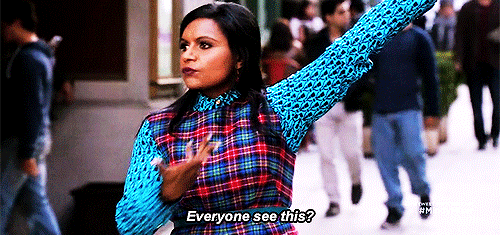 4. Guest Stars
 What's better than seeing your favorite cast together on your favorite show? Seeing your other favorite actors pop into said show and play hilarious characters, of course. From James Franco in the role of the adorable sex therapist to Breaking Bad's Anna Gunn as Mindy Lahiri's personal idol, everyone seems to want in on this project. Previous guest stars include Seth Rogen, It's Always Sunny in Philadelphia's Glenn Howerton, and Workaholics' Anders Holm, whom spoilers seem to indicate will be making reappearances in season 3.
 3. Morgan Tookers
With a prison record of grand theft auto and a tattoo inked onto his stomach as a reminder to never commit that crime again, this convict-turned-nurse played by Ike Barinholtz may be the funniest character on the show. He's everyone's sidekick and is constantly saying the wrong things, all of which result in bizarre situations. 
 Still, he has a big heart (demonstrated by his secret fostering of puppies in the office) and you can't help but love him. 
2. Writing
 Instantly quotable among friends, each episode is filled with clever one-liners, sass, and wit. While the cast is fantastic and the comedy fast-paced, the true basis of this show's success is the script's heavy focus on the relationships between each of the characters. It may be called The Mindy Project, but a storyline for an episode could just as easily be driven by Mindy as it could by the other characters.
 1.  Mindy Lahiri/Kaling
 If you haven't already gone and started to watch this show by now, the main reason to tune in would be to see Dr. Lahiri, played by the amazing Mindy Kaling. Not only is she a successful woman living the high life in New York, but she also just gets us. Sure, Mindy has an overinflated sense of self, and yes, she has an unhealthy obsession with romcoms, but her flaws are what make her hilarious and relatable. In the end, Mindy is the kind of person you'd want to gossip and hang out with. And, doesn't everyone need someone like that?
Be sure to catch the The Mindy Project on Tuesdays at 8:30/9:00c on FOX!
Happy Mindy-watching!