Why spend more money when you can get cute clothes for way less? Not only can you get name-brand clothing, but you can also find cute vintage clothing–that is coming back into style–for way cheaper than retail value. In case you haven't guessed it already, I'm talking about thrift shopping.
There are multiple name brand thrift stores such as Goodwill, Savers, Value Village, and Salvation Army. There's also plenty of non-name-brand shops you can find if you Google search "thrift stores near me" for more thrifting options. 
Thrift stores also are bound to have a plethora of old clothes from all the decades and vintage styles that are coming back into style–only, at the mall, they will cost way more. Those snap-off sweats? Check. Men's polo's (just crop it yourself)? Check. Old man sweater? Check. Mom jeans? Check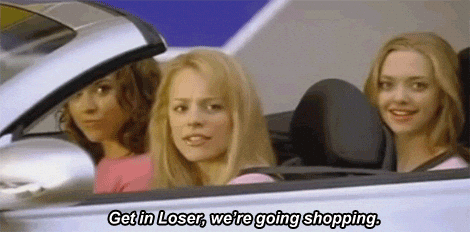 Thrifting saves you money! If you go to the mall, $50 might get you one, maybe two items. Fifty dollars thrifting will get you at least five items. I usually get about 10 times for $50. Trust me, your bank account and closet will thank you.
Don't believe that these stores will have any good name-brand buys? Well, I can promise that they do. You just have to search for it and not get discouraged if you don't always find something. Some of the best finds I've had are many Nike shirts and leggings, Converse, Banana Republic, and my most treasured find, My Lululemon leggings that I got for $7.95. They were like new and to this day they are my best find. If I had gone to the mall, I would have paid at least $100. No thank you.
Now, great name-brand finds aren't always a guarantee. That doesn't mean there aren't good items though. However, some days there may not be anything appealing. The key to thrifting is to have patience and to keep looking. Don't get discouraged after one unlucky trip.