The True Story Behind Hulu's 'The Act'
On March 29, 2019, an American true crime drama television series called The Act premiered on Hulu.
The first season of the show is focused on the real life of Gypsy Rose Blanchard and the murder of her mother, Dee Dee Blanchard. The show stars Joey King as Gypsy Rose Blanchard and Patricia Arquette as Dee Dee Blanchard.
Gypsy Rose Blanchard is the daughter of Dee Dee (Clauddine) Blanchard and Rod Blanchard.
Dee Dee married Rod at age 24 and together they had a healthy baby girl, who they named Gypsy Rose. However, Rod was only 17 years old at the time of Gypsy's birth, so he called off the relationship and later remarried, leaving Gypsy with Dee Dee.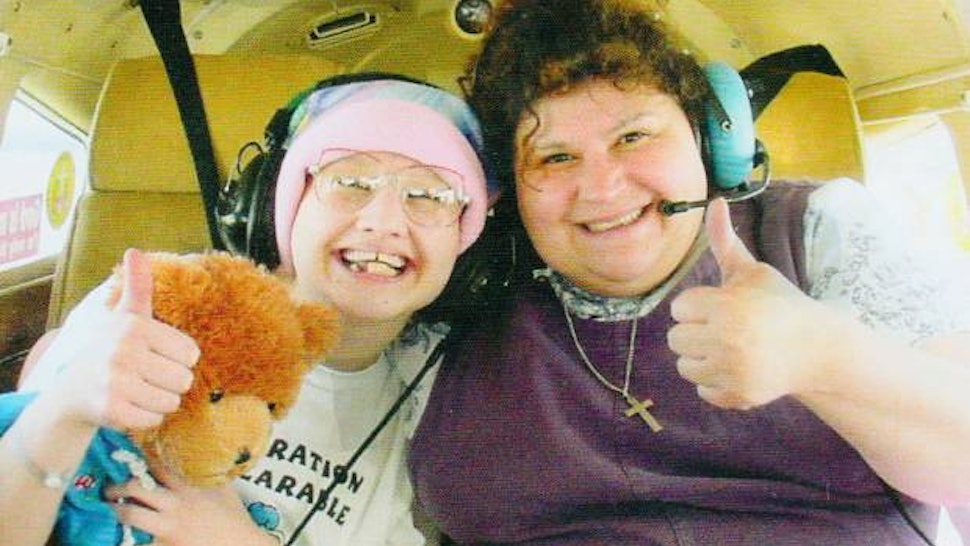 Things changed in 2005 for Dee Dee and Gypsy when Hurricane Katrina hit. The pair had originally lived in New Orleans before they were evacuated to Greene County, Missouri due to their home being ravaged by floodwater.
They moved into a pink house built with a wheelchair accessible ramp, provided by Habitat for Humanity.
Gypsy was said to be impaired with many illnesses, such as leukemia, seizures, muscular dystrophy, and sleep apnea. She also had to be fed through a feeding tube.
With Dee Dee as a full-time caregiver, they were forced to piece together a life largely from donations, disability payments, and child support from Gypsy's dad.
According to neighbors and family friends, the two seemed like a perfect duo; Dee Dee and Gypsy always seemed happy. The two traveled to Disneyland through the Make-A-Wish Foundation on occasion and even met country superstars Miranda Lambert, who gave money to Gypsy from her and her then husband, Blake Shelton's personal account.
According to Gypsy's friend and neighbor, Aleah Woodmansee, Gypsy would talk to her and begin to show interest in boys. However, Dee Dee did not approve of the girl talk, telling Aleah that Gypsy "had the mentality of a child."
Despite her mother's concerns, Gypsy went behind her back and set up an online dating profile on a Christian dating website, where she met a man. They often messaged each other, talking about their future together.
Everything changed in June of 2015.
Family friends were concerned when a vulgar message was posted on Dee Dee's Facebook. Her status was changed to: "That B*tch is dead!"
After many concerned comments on the page, there was another vulgar post from Dee Dee's Facebook account. After that was posted, family friends called in the police for a wellness check on Gypsy.
Late on the night of June 14, 2015, Dee Dee's body was found in her bedroom stabbed multiple times, and had been dead for many days.
Gypsy was nowhere to be found. Everybody assumed that Gypsy had been kidnapped, and a search ensued for the missing girl.
The police were able to track the IP address of the Facebook posts, which were traced back 600 miles away in Big Bend, Wisconsin, at the location of Gypsy's secret online boyfriend, Nicholas Godejohn.
The police surrounded his house as well as the SWAT team, and Nicholas surrendered, along with an unharmed Gypsy. It was discovered that Gypsy was not, in fact, a victim of kidnapping, but in fact, had become a suspect.
Gypsy was interrogated by the police, where she told police that she had no information on what had happened to her mother and claimed that she didn't even know she was dead. In another interrogation room, Nicholas Godejohn was being interrogated as well.
It turns out Gypsy was a victim of Munchausen by proxy, a form of abuse where a parent or guardian fabricates or exaggerates sickness in a child. Dee Dee was able to persuade doctors to perform unnecessary procedures on Gypsy.
This was figured out when Gypsy presented herself in court, walking without a wheelchair.
Dee Dee claimed Gypsy's birth certificate and medical records were lost in Hurricane Katrina in 2005. Dee Dee also shaved Gypsy's head to make it look as though she had leukemia, rubbed numbing gel on her gums to make her drool, and threatened Gypsy to not tell anyone that she didn't need a wheelchair.
Gypsy had planned on introducing Nicholas to Dee Dee, and when she did, things didn't go well. Dee Dee had become jealous of all the time Gypsy was spending with Nicholas. She had apparently even fought with Gypsy for weeks afterward.
"I wanted to escape," Gypsy shares in an interview with ABC News.
"It started to be physical in 2011. She hit me with a coat hanger sometimes." Gypsy had tried to run away many times but was found hours later, and there were consequences.
"She physically chained me on the bed and put bells on all the doors."
Because of this, Gypsy and Nicholas devised a plan together to help her escape. Nicholas traveled from Springfield, Wisconsin to where Gypsy was and stayed in a motel until Gypsy let him know that Dee Dee was asleep.
Once Dee Dee was asleep, Nicholas came into the bedroom where she was sleeping and stabbed her many times in the back while Gypsy hid in the bathroom.
After Nicholas had murdered Dee Dee, the two had sex in Gypsy's bedroom. They then fled in a cab to a hotel and then to Nicholas's house in Wisconsin, where Gypsy posted on Facebook.
She was caught on multiple security cameras checking into the hotel, wearing a wig as a disguise. Gypsy and Nicholas were eventually found and charged with second-degree murder.
When investigators searched Gypsy and Dee Dee's house, they discovered a medicine cabinet stacked high with medications that Dee Dee was giving to Gypsy.  
She later shared with ABC News that she knew that she was not sick, despite what her mother had told her.
"There were certain illnesses that I knew I didn't have. I knew that I didn't need the feeding tube. I knew that I could eat and I knew that I could walk, but I did believe my mother when she said that I had leukemia."
She says that she's never been sick, not cancer, not epilepsy, not anything.
"The only thing that I have wrong with me is I have a little bit of a lazy eye."
On April 4, 2019, Gypsy stated that she would be taking legal action towards The Act and it's creator Michelle Dean.
Blanchard stated: "I feel it is very unfair and unprofessional that producers and co-producer Michelle Dean has used my actual name and story without my consent, and the life rights to do so."
Screenwriter Franchesca Marcelli stated that she and the producers would be looking into the legal rights for their actions.