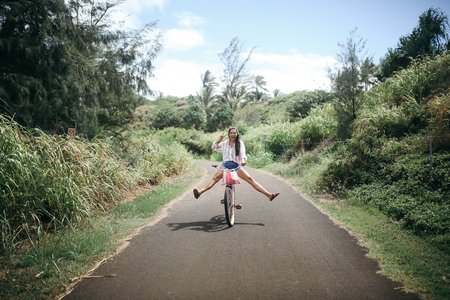 Tessa Pesicka / Her Campus
Top 10 Things You'll Need for This Summer
Summer is just around the corner, which means the many Pinterest ideas that I've accumulated over the Winter are finally coming in handy. There is something about 90-degree weather that makes you want to get out and do things. But with everything that's been going on with COVID-19, who knows if we will still be required to stay quarantined come summertime. Either way, the items I listed below are perfect to keep you from being bored, regardless if everything opens back up this summer. So, if the beaches remain closed, don't worry, you can count on any of these items to help yourself stay busy and entertained. If you get anything out of this article, don't let the idea of staying home ruin your summer. Instead, think of this break as the perfect time to get creative!
Ready for that perfect summer tan? This is your year girl; I can feel it. Forecasts predict a hot summer this year, and that means a high UV index to go with it. If you want the best-looking tan of your life, buy products from Sun Bum. A couple sprays of this oil goes a long way, and soon you'll have that natural glow you've been looking for. Trust me, you won't regret it.

Having an entertaining book this summer is essential when laying out in the sun. There are so many great books that have come out over the past year. One book I recommend for us college girls is "You'll Grow Out of It." The head writer for Inside Amy Shummer, Jessi Klein, tells the stories of life's funniest moments, and the of experiences women face in the 21st century. A super good read for us girls in our early 20's.

Investing in a good bike this summer is a great way for people to stay fit, if they hate to run or workout. Any form of exercise for at least 20 minutes a day is really important for your health and not to mention a great mood booster!  It's totally worth buying a bike (if you don't already have one) and riding it in a new neighborhood. What I like to do is take my bike to my favorite summer spot, which is right by the beach. I love to look at the beautiful view, especially during golden hour. I've been able to capture some of my favorite photos when taking a ride along the beach.

I know what many people might be thinking...a tent is such a childish thing to buy. (I would never.) However, if you've ever seen any Tumblr photo, you'll know exactly what I mean by wanting to splurge on a tent. It's so easy to transform any tent into an artsy summer hangout spot. My personal favorite is the ones where people set up their tents in their backyard. Afterwards, they add some fairy lights, pillows and blankets to create the perfect movie night. This is perfect for any date, or with some friends, because all you need is Netflix and some popcorn.

If you don't know the hype about these cameras already, believe me, these tiny instant photos are perfect for capturing life's precious moments. The vintage quality in these pictures are perfect to hang up on in your room, or to add to a scrapbook. I have such a fun time adjusting the settings, to create unique images. This is the first camera I ever bought, and it's what got me interested in photography.

If you don't have a Tik Tok, download the app and watch videos of people making their own tie dye sets. All you need is any plain colored shirt or bottom. If you don't have any in your closet, Walmart sells t-shirts and sweatpants for like $10 dollars a piece. Next, you can buy your tie dye kit on Amazon, for super cheap! For those looking for a simpler approach, taking bleach and hair ties can create the same effect. Get your t-shirt, tie off the areas you want (watch Youtube videos for reference), and splash on the bleach. Let it sit for a couple hours and then throw it in the wash. Leave it outside to dry, and then there you go!

A fire, and a bag of marshmallows, graham crackers, and chocolate are essential for any summer night. This yummy snack is a great family activity that creates the perfect aesthetic for storytelling, music and games.

There is something super therapeutic about arts and crafts. You don't have to be an artist to create beautiful pieces of work. My friends and I have been painting for years, and none of us have had any previous experience with it. As far as chalk goes, if you've seen any Pinterest photo ever, you know that having colorful chalk designs on the pavement makes for the perfect Instagram post.

You need a hammock if you want to look cool while being comfy. There are a couple of cheap hammocks sold off of Amazon for less than $50 dollars. It's a fun alternative instead of laying out in the sun with a boring old towel. A colorful hammock is just what you need to spruce up your backyard this summer.

Making your own popsicles is a fun family activity. My family has a competition every year to see who can create the best flavor. The main thing you need is the mold which is sold on Amazon for less than $10 dollars. Afterwards, just grab your favorite fruits or veggies, along with your choice of milk or juice. Take all your ingredients and put them into a blender. Once it's mixed together, pour the liquid into the mold and let them freeze for a couple hours. Many people don't realize that this is a healthy alternative to ice cream, because all the ingredients are 100% natural and don't include any artificial sugars.
Hopefully these items will inspire you to make the most of your summer this year. Even if it's not the summer we expect, it's important to stay positive and make the most out of a difficult situation. Be sure to buy some of the items above to have your most relaxing summer yet!