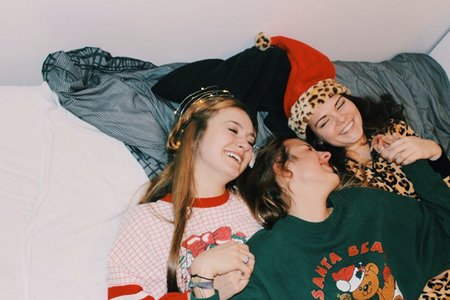 Anna Schultz / Her Campus
Dear Freshman Year,
I never thought I would be saying goodbye so soon.
Hearing that I had to leave you earlier than expected truly broke my heart. As I have now returned home, transitioned into my online classes, and said goodbye to my best friends, I want to take some time to thank you for everything,
I remember the nerves I had long before I even began the year. I was indecisive about even picking a school, always second-guessing my choice and was never really sure how I was going to like it. The summer after graduation came and went, and I was so upset that I had to say goodbye to my hometown best friends. I became very anxious about moving out and onto this new adventure. Would I ever make friends? Will they like me? Will my roommate and I get along? These questions were always lingering in my mind. 
The day finally came when I packed up the car with my bags, said goodbye to my dogs and my hometown, and left for Philadelphia. I arrived at my residence hall and checked in with butterflies in my stomach. When I unlocked the door to an empty dorm room and unpacked my belongings, it was a very weird feeling. Looking back now, I wish I could relive that moment all over again. That room would hold so many laughs, cries, dance parties and any other adventures my friends and I would get into. 
 I thought I could keep myself together when I said goodbye to my family, but when I saw my mom tear up, I did the same. It was in this moment that I realized how grown up I have become. As my dad yelled "straight A's!" as I crossed the street to leave my family, I felt so proud of myself for making it to this moment. I have been waiting my whole life for college! And it was finally here!
Like most of us, I was lost and overwhelmed amongst the madness of new students, but I quickly found my people. My two roommates and I quickly became very close, getting ready for our first college party, walking around campus trying to find where our classes were, getting dinner at the dining hall and helping each other out throughout this crazy transition. I quickly adjusted to my new home. There were plenty of nights that I missed my real home, but I was still having the time of my life.
A few weeks later,  I made another friend in class, and she quickly became friends with my roommates. Before we knew it, the four of us were inseparable. From making stupid jokes in our dorm room to making fools of ourselves in frat basements, we had the best time together. There was always something exciting in our friendship. These are the people who helped me not only survive my first year of college, they also made it the most memorable year. 
Flash forward to March and I am initiated in a sorority, bonding with my new sisters while valuing the same friends that have stuck with me since the beginning. I am the happiest version of myself. Every day brings me a new adventure, no matter how big or small, and I look forward to seeing what's in store for me. I then found out that due to the unprecedented times we are facing right now, I would have to pack up my room, say goodbye to my friends and continue my education at home. Although it was heartbreaking having to leave so suddenly, I am able to see the good in this. I think it is a wonderful thing to be so sad about leaving school, it means I picked the right one. Looking back on the year, I realize how blessed and lucky I am to have really created a new home for myself. 
With all that being said, I just want to say thank you to my freshman year.
Thank you for making me the happiest I've ever been, teaching me valuable life lessons and making me even more independent. Thank you to my dorm room for the infinite amount of laughs with my friends, for hosting the best Friday night parties and late night-eats afterwards and for every single stupid dance you have seen me do. Thank you to my hallway for introducing me to some of the coolest people and for all the ding-dong-ditches my friends and I would do. They really were such an adrenaline rush for me. Lastly, thank you to myself for picking the best school ever.
If I could go back in time, I would tell my senior self to stop stressing so much, because she made the best decision ever.