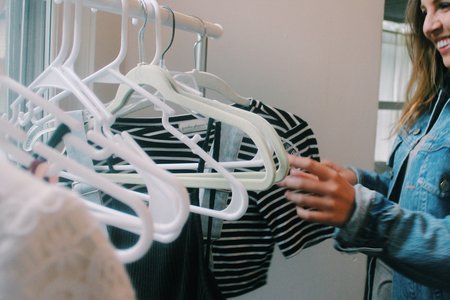 Anna Schultz / Her Campus
A Guide to Repurposing Old Clothes
Now that I'm back home for the semester, I've found focusing on miniscule tasks to be extremely difficult. I found myself lost in my own bedroom, begrudgingly attempting to finish work and getting distracted every ten minutes. It wasn't until I realized that the reason I kept diverting my attention is because there is just so much to be distracted by. I figured if I wanted a clearer headspace, a clearer physical space would be the best place to start.
My closet, as valuable as it is to me, is a mess. I struggle with the upkeep of all the clothes and a multiplex of them always find their way onto the floor. While this was a heavy indicator that I need to improve my lifestyle habits, it was also a sign that I needed to make more room for all of the clothes in my closet. 
But not all of your clothes have to end up in a keep or toss pile.
While donating old clothes to local thrift stores is always appreciated and a viable option, there are a variety of ways to donate that extend beyond traditional methods. It's important to note that your safety is the ultimate priority. Not all of these options are available in light of COVID-19 and not all of them comply with social distancing regulations, so it's best to wait for some.
Blue Jeans Go Green
If you're looking to get rid of some old denim, you can mail it to the Blue Jeans Go Green program and they will turn it into insulation. You can even host a denim drive and encourage friends and peers to get rid of excess denim in order to benefit the environment.
DIY
Give DIY-ing a chance! This Good Housekeeping article contains over 50 possibilities for refurbishing old clothes. One possibility the article mentions is a guide from The Art of Doing Stuff, that turns an old flannel into a tote bag. It's an option that's budget and environmental friendly.
Compost
With organizations such as 1 Million Women, you can learn more about the fashion industry's impact on the environment and what you can do to combat it. Their website features a blog post on how you can turn your old clothes into compost.
It's refreshing that there's still so many ways to give back with our old clothing even throughout a global pandemic. Now is the time to take that leap forward that you haven't had the time to before!