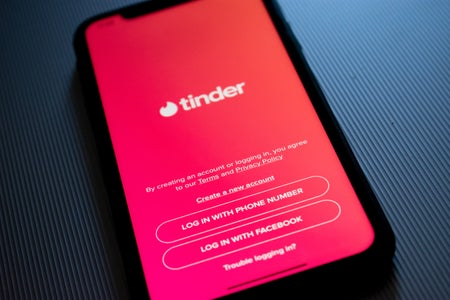 Let's face it: Internet dating can be scary. There's not a solidified way to ensure you aren't meeting up with a catfish. But, there are ways you can keep yourself safe and out of harm's way for the most part. After going on countless dates with men I've met online, here are some safety tricks and tips I've learned.
1. Have an accountability buddy (or two).
An accountability buddy is someone who you tell that you're going on a dating app date. It will help you feel safe in knowing that someone knows what you're up to and gives you an easy source if something were to go wrong. It never hurts to share your location with some of your best friends. Find My Friends is one of my favorite apps. Meeting up with someone none of you have met in real life can go wrong, so it's nice to have someone that knows where you are (or your phone, for that matter) in case something goes awry. 
2. Get their social media BEFORE agreeing to a date.
Snapchat is a godsend for dating apps. Before you agree to a date, make sure your potential suitor snapchats you and is who they say they are. You can't fake a Snapchat or FaceTime call, but you can fake an iMessage picture. Also, a quirky way to get them to make sure it's them is to ask them to Snapchat you with a utensil in their hand. My go-to is a butter knife, but the most popular is probably a fork. This will also help in finding them when you do meet up. Lastly, scroll their Instagram feed. Social media is there for a reason, so utilize it!
3. Always have an escape route.
This is my favorite tip. I always get a giggle when I tell my date my escape plan I had pre-date if the date is going well. The easiest escape route is driving yourself. A quick little "my roommate needs help" or "my bestie is going through a break up, I have to go," and boom, you are gone. If you're car-less, have that accountability buddy on standby for the first 20-30 minutes of the date so they can scoop and rescue with some sort of "emergency," if you know what I mean. My escape routes have saved me from awkward conversations and helped me end a date when I didn't know how. 
4. The first date should always be in a public place.
This point is crucial! As much as you think you may know this person, chances are you really don't. Making your date meet you somewhere public is the easiest safety tip to follow. Having other people around is never a bad idea. Once you're sure they're safe, then you can transition to somewhere more private if you so desire. My favorite public places to go are anywhere that serves ice cream. Ice cream is low commitment, cheap, not as formal as a dinner invite, and delicious. It would also be a good idea to go when it's still light outside, so lunch is never a bad option. 
5. Stay sober until it's over.
Drinking on a date can be fun (when you're over 21, of course), but when it's the first date, stay under your personal limits. This will prevent anything you aren't consciously aware of happening from occurring. And, you get to know your date on a personal level while sober and don't have to worry about drunken mishaps. If you're feeling uncomfortable at any point, dip! No need to stay in a situation you're not okay with. Staying sober will make your escape route easier, especially if you drove. There's nothing wrong with drinking on a date, but if you're worried about safety, save it for the second or third. 
I hope this article hasn't scared you away from going on Tinder dates, because I am here to encourage just the opposite. I have had some of the most fun in college on dates with people I've met through dating apps. It's just important to keep yourself safe. Don't forget to be yourself, let go, and have fun! Dating shouldn't be hard, you should enjoy it.