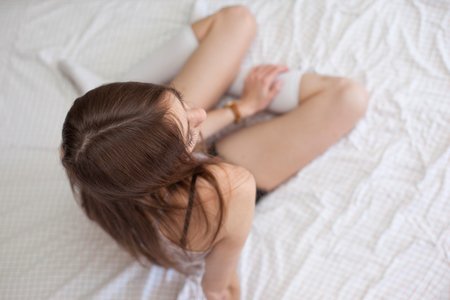 Kristen Bryant / Her Campus
Quarantine's Deja Vu Moments for an Only Child
    Looking for some things to do to pass the time while in quarantine? Take some advice from me, an only child who is here to tell you that this life of staying inside and social distancing is very reminiscent of a sibling-less childhood. 
    When I was a little kid, I spent my weekends, afternoons, school breaks, and summers doing a lot of things by myself – and occasionally with my parents – within the confines of my bedroom, living room, and backyard. When you don't have a brother or a sister to play with, fight with, or learn from, you're stuck finding ways to pass time all on your own. (I mean, my parents could only take me to the park or to the movie theater so many times in a week… and now we can't do either!) 
    Here are some things that I did growing up as an only child that you can do during quarantine that are actually really great ways to pass the time all on your own:
Books. Honestly, doing anything with books is fun. Reading them, writing them, coloring in them, organizing them by genre, title, or release date. All of this was a boredom buster at one time, and let me tell you, they still are. Nothing is more rewarding than organizing… except maybe immersing yourself in a stellar novel. When you turn to books to kill some time, you're never *really* at a loss.

Throwbacks. Something I loved to do when I was a snot-nosed elementary school kid was go through my family's old photos, home videos, records, and all the scraps of years and generations past. It's equally mesmerizing and interesting as it can be hilarious and adorable. Think about setting some of your free time on Thursdays – or Tuesdays – aside for a family #TBT hang. Scour your attic, basement, or garage and gather whatever memories you can find from years past. I have been having a lot of fun doing that lately, even with throwbacks of my own, from back when I was a kid! Looking through old school projects of mine, terribly written letters to the Tooth Fairy, and class photographs has brought hours of laughs and years of memories back to life.

Makeup. Playing around with makeup – whether it was Claire's brand and made for kids or your mom's that you snuck off her vanity – was always such a thrill. It was adult, it was exciting, it was artistic. Even if you had no idea what you were doing, there was an element of elegance and expertise that just holding a mascara wand or red lipstick in your hand had. Just because you may wear makeup on the daily or have watched YouTube videos on how to do a perfect cut-crease that doesn't mean you still can't have some naive, innocent fun with it. Now, I'm not saying to break out your most expensive, prized eyeshadow palette just to play around, sit in your house, and take some selfies. I'm just saying to be creative, be true to yourself and your skill set, and get yourself dolled up with no pressure added. 

Dress up. OMG, there was nothing I loved more than playing dress up as a little kid. From strutting around in an Ariel costume to trying on my newest outfits from Justice, having a no-pressure-added fashion show was the most rewarding, exciting feeling. I would throw on an outfit that reminded me of High School Musical, blast "Everyday," and sing along around the house as if I, too, were an East High Wildcat. You can do that now! Go on and blast Niall Horan's new album or whatever songs are all-the-rage on TikTok right now, clean out your closet, and have a fashion show. You're being productive and keeping busy all while being entertained and having good, clean fun.

Backyard Toys. I don't know about you, but nothing brought me more joy as a kid than seeing my gym teacher bring out a bunch of hula hoops, jump ropes, Skip-Its, and mini-trampolines. It's nostalgic, it's heart-healthy, and it's fun! See if you can dig up any old backyard toys that you and your cousins used to play with at family barbeques and put them to good use! Nobody ever said you had to age out of hula hooping or jump roping!