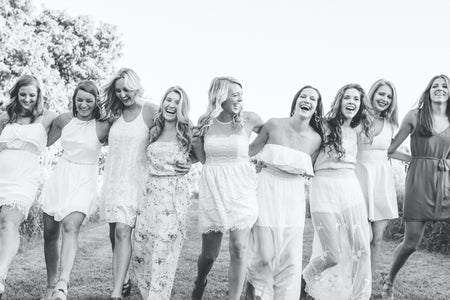 Cassie Howard / Her Campus
    Like almost every other girl going to college, I never thought I would be in a sorority. Sororities have historically been perceived as a shallow organization where members pay for their friends and base everything off of how you look and dress. Walking into the first day of rounds my entire perspective shifted as I met each sorority. 
    The first day of rounds came and I made sure I was dressed to the nine. I was accessorized and made sure every part of my outfit was on point. I went in with an open mind and no idea what I was getting into. The mindset of not knowing what I wanted was without a doubt my best asset throughout this whole process. It allowed me to enjoy the entire process and be ecstatic with whatever my outcome was. 
    I was lucky enough to have the best Rho Gammas. They were so easy going and approachable throughout the entire process. There were a lot of times when I was tired or overwhelmed with getting my school work done and they were always there to talk to me and remind me why I wanted to go through the process.
Throughout my freshman year, I had a great group of friends but I felt like something was missing. I decided not to rush while my other friends did and seeing all of the new people they were meeting made me feel like I was missing out. As a sophomore, I decided I wanted everything that Greek Life at TCNJ had to offer. I wanted more out of my college experience.
Going through rounds and finding my forever home has already given me just that. I had the most positive rushing experience because I was just so happy to be going through the process. Going through rounds taught me how to be more outgoing, because I am typically on the more reserved side, and it allowed me to meet a plethora of people. The recruitment process was long and tiring, but I'll always look back and remember how good of an experience it was.