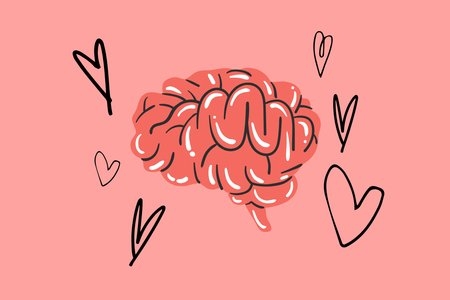 Original Illustration by Gina Escandon for Her Campus Media
Mental Health Care & The Pandemic
Let's face it: whether you previously struggled with mental health or not, these are not easy times to be living in. In the past two weeks, we have seen a number of new rules, restrictions, and societal changes come so quickly. It can be challenging to be forced to stay at home, and the uncertainty of when this will all end is daunting. Here are some pandemic-friendly suggestions that will make day to day living a bit easier. 
Your feelings are valid and you are entitled to feel the way that you do. College students everywhere feel robbed of the experiences that they had such as going to class, studying abroad, graduation ceremonies, gatherings with friends, and living in your dorm were everyday things that vanished when the pandemic came. It's valid to be upset and mourn these losses, but do not let it consume you. This is happening to students all over the world, and one day in the future, we will have them back. 

Leave the house. Obviously, it is a government-mandated practice to stay at home, but that doesn't mean we can not take a walk or sit in front of the house. Staying inside the house all day will breed more negative thoughts and make you feel more trapped. Make the effort to get some fresh air, and get yourself away from the worrying. 

Consume positive forms of media. Watching the news all day and constantly checking social media will only increase anxiety. It is important to stay informed, but do not let it become your whole life. I would suggest sites (like Her Campus) that are still finding happier topics to write about.

Talk to your friends. Just because we can no longer see our friends in person does not mean we are permanently separated from them. Now is the time to use apps like House Party and communicate via webchat. Having friends to talk to that can make you laugh will make you feel less alone. 

Utilize campus resources. TCNJ Mental Health Services is continuing to offer therapy via webchat. If you need help there is still a way to reach out and get it. Use the Online Wellness Link to fill out a form for services.