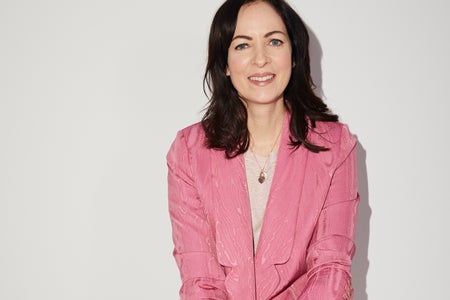 Photo by Jenny Livingston
Meet Kerry Diamond: A Fashion, Beauty, and Food Industry Fortune Teller
Kerry Diamond is a writer, editor, podcaster, and founder of Cherry Bombe (an indie magazine celebrating women in food and beverage). I've had the pleasure of knowing Kerry and witnessing her industry impact and willingness to cultivate talent. (And I'm now lucky enough to be interning with her and the Cherry Bombe squad!) We talked about everything from her career path, intern do's and don'ts, and the birth of beauty bloggers.
Grace Reynoso: What art form was your first pure love?
Kerry Diamond: Writing! I started a school newspaper in third grade, and I recently found a copy of it. We sold it for 10 cents and we didn't even have a Xerox machine. We had a Mimeograph machine and I was unhappy with the quality. Even in third grade I cared very much about the quality of a print product.
GR: What first made you want to be involved in the beauty industry?
KD: I actually didn't want to be involved in the industry at first. It was sort of accidental. I was working for a travel-trade magazine. I later found out that it was owned by a company that owned a lot of pornographic magazines. After that, I didn't want to work for the company anymore [laughs].
It took a long time to find a new job, but Women's Wear Daily was always looking for people. I applied to every single job they had every week and they finally called me about a fashion job. In the call they recommended that I apply for a mass market beauty position (drugstore beauty). I went through so many interviews for that position and I did not get the job, and I was crushed! I thought I would never make it out of my travel-trade magazine job. 
I continued to apply to many different jobs. One day, WWD called me back and asked me if I would be interested in the luxury beauty editor job, where I would be covering department store brands (like Estée Lauder, Lancôme, Chanel) and I was like, "Are you kidding? Of course I want that job!"
I was so happy, and I took it as a sign to not give up. If there's something you really want, like a job, sometimes it might just be the timing, not you.
GR: You have a great eye for seeing the next big thing, one of the most prominent examples being Michelle Phan. In your time at Lancôme, you pushed Michelle to become the first beauty YouTuber to be signed by a beauty brand, let alone a luxury beauty brand. Where do you feel you developed that strength from? 
KD: I'm super curious and I just love people. As for "seeing the future", I'm not always right but I do have a knack for spotting talent.
Lancôme was the first luxury beauty brand to work with beauty bloggers. It is so strange to say that now, but traditional gatekeepers in the industry looked down their nose at these folks. I thought, "You have to be kidding me, this is so exciting! All we've had forever is magazines, but now there is this whole other world!"
I thought beauty bloggers were fascinating! At the time they were doing such interesting things with swatching, for instance. They would go to department stores and swatch all of the product on the inside of their arms. I thought, let's make it easier for them and send them the product. That was considered revolutionary, but to me it just seemed like common sense 
Not everyone agreed that Michelle should be the face of the brand, it was controversial. Once they saw the numbers, and they were racking up millions of views, everybody started calling us. A lot of people say I discovered Michelle, which I did not, but I did push the luxury beauty industry toward taking certain personalities more seriously.
GR: What advice would you have for those looking for internship opportunities, who may have their heart set on something glamorous and name-brand?
KD: I've had a million internships. I will say, things were very different when I was your age. Blogs didn't exist, social media, YouTube, didn't exist. If you want a job with a prestige brand that you know a lot of people are applying to, what are you doing to set yourself apart? Sometimes you have to go above and beyond and it's not just enough that you have good grades. 
If you're sending one email, the chances of you getting a response are so slim. Using Chanel as an example: If you find out who's hiring interns, you can tag them on some special thing you did on your Instagram. Or you can take the extra step and print out your application, write out a letter, and mail it in with a beautiful stamp and envelope. Anything you can do to set yourself apart helps, but giving up after sending one email, you'll never get anywhere. 
GR: Do you have any major intern Do's and Don'ts?
KD: When you're an intern, take advantage of your special status. Everyone loves an intern! They're so young, they're special, they're energetic. If you're an intern and you want to talk to the CEO, everyone will think, "the intern wants to talk to the CEO!" and people might actually want to make that happen for you. In comparison, when you're the new person at the job (a college graduate or whatever it is) your co-workers will say, "Get in line, new person, everybody wants to talk to the CEO!"
Also, don't ever be the person who says, "That's not my job." I can't tell you how many people I've encountered who've said that. A lot of people have worked for me over the years, and the second somebody says "that's not my job," I know they're the people who will never succeed. Granted, you don't want to be the person who gets every junky task dumped on them. 
Sometimes you are given tasks because people want to see you're capable and have good attention to detail. It's all about the mindset you go in with.
GR: How do you make the most out of an internship?
KD: Think about why you're in the internship. You want to have all of the people you're working with want to recommend you for a job. A lot of interns tip-toe through their internships, and never take the time to make relationships. 
Back when I worked for big companies, I would receive emails from interns asking me to write them recommendations and I wouldn't remember them. If you leave an internship and you don't have at least one solid relationship with someone that will vouch for you, that's a failed internship in my mind. They should know you on your last day, and you should be able to say, "Thank you so much. May I use you as a reference for my next internship or my next real job?"
GR: Ways to excel and stand out as a full-time employee?
KD: Take advantage of clubs, organizations, or opportunities for extra learning within the company. If there are any opportunities where you can hear people speak within the organization, take advantage of that. 
If there's a senior person you admire who gives interviews or talks, pay attention to what they do and let them know. Those are all great ways to get exposure and access to senior people in an organization that you wouldn't necessarily get access to.
GR: Advice for any young people who are debating whether to work for "the man" or for themselves? 
KD: Now that I have done both, I would work for the man in the beginning because you will learn things that you could never learn on your own. I have been very fortunate that all of my jobs have felt like going to graduate school. I have learned so much in every job that I've had. Take advantage of everything a job has to offer. 
GR: Advice for anyone that wants to be really good at what they do and turn an idea into action?
KD: That's the genius of the Nike slogan "Just Do It". There is no greater advice. Think about the amount of time you can put into thinking about something, when you could just do it. Don't be afraid, it's hard today because people are so judgemental. You also don't have to release everything into the world. There is something special about doing something just for yourself until you're ready.
There's so much pressure that we start putting on people from the moment they can talk. The second a little kid can string a sentence together, we're asking "what do you want to be when you grow up?" instead of being like "enjoy your childhood". Your life will change so many times, you won't believe it. Especially the way today is you're going to do a lot of things over the course of your lifetime.
A good thing to do is ask yourself, what do I love to do even if I'm not getting paid for it? And maybe there's not a job in that and it stays a hobby. What you love to do doesn't always have to be your profession, but maybe it could be! 
I am constantly learning so much from Kerry Diamond, and I hope you did too! Check out Kerry's food magazine, Cherry Bombe, and her podcast, Radio Cherry Bombe!