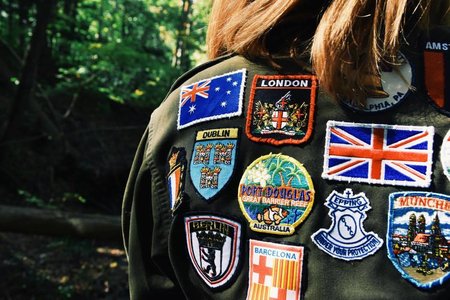 Anna Thetard / Her Campus
Living and Loving London: A Place that's Hard to Leave
When I was preparing for my semester abroad back in January, I had absolutely no idea of what to expect. 
It was just part of the plan, a tick mark to check off, and a piece of my credits to work out with my advisor. My parents had ingrained in me from the beginning that I should take the leap, as not doing so was their biggest regret.
When January 8 actually did come, I packed up my favorite sweaters, waved good bye to my fish, and flew 3000 miles across the world by myself.
I truly didn't understand the gravity of this change until I reached West Kensington, London, and climbed up to the tiny top bunk of the bed that was now my home. 
Looking back on the journey from my New Jersey home now, I can honestly say every second was a fever dream. A wild, hazy hallucination that I'm still not sure was real. 
During the duration of my time in London, I took 4 classes, an internship for 20 hours a week, and had 3 months worth of trips planned. I traveled to Paris, Rome, Sicily, almost every city in the UK, and was planning to reach Ireland and Spain as well. To say the least, I kept myself busy. 
London characterizes this business; it is always moving, constantly changing, and quickly ebbing and flowing. I felt lucky to be able to match this sense of hustle and bustle.
And yes, this was the opportunity of a lifetime. It's everything I could have imagined it to be. But it was also quite an uphill battle. If I would have paid a little more attention to our orientation on culture-shock, I would have known that it's a real, tangible obstacle that can take any wonderful experience and turn it sour. 
My first few weeks abroad, I found myself in a ball of anxiety that could not be quelled. I was constantly on the edge of my seat; I couldn't relax. These were the moments that no one could have warned me for, that no orientation could have prepared against. 
I wish I would have known that these would be the hardest moments, so I could have told myself to keep going.
There were too many new stimuli, and nothing that I felt I could grasp on to. Between new friends, constantly moving, and confronting new challenges, it was as if I had to build myself an entire life from scratch. I didn't realize that I was separated from everything at home that made me, me.
It took me about a month and a half to feel at home in London. And it was never London's fault—the city is just buzzing with energy. It's an epic adventure at every turn. 
And on March 15 when I left, it still wasn't home, but I had reached a sense of peace that I could finally find comfort in. A comfort that made it hard to leave.
I had found places like Hyde Park—where I sat and wrote the first draft of this piece—where it seemed as though the electricity of the city came to a halt, just long enough to smell the roses. I was able to take my anxieties and turn them into motivation to get everything out of the experience that I possibly could.
And as I flew home from Heathrow to JFK, I finally felt accomplished. I was satisfied with everything I was able to do, even though it was cut short of some of the anticipated excursions. What I did have was 3 months of transformation; 3 months of finding out who I was—as cliche as it sounds. 
Since the abrupt ejection from our study abroad due to the pandemic, it has been an even wilder ride into quarantine. My roommates and I went from galavanting around the streets of a foreign country, straight to sitting in our homes in suburbia. The days of week-long antics and adventures were seemingly over.
But I've certainly learned enough to know that when you're shoved into a new situation, even if it's quarantine, you have no choice but to dive in head first. It's not the end of the world. Eyes up, wise up, and keep going.