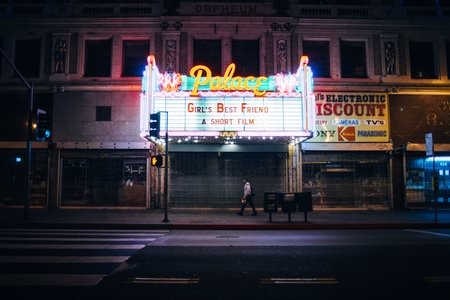 20 Films to Look Forward to in 2020
With the new year comes new films. Whether we're talking horror, sci-fi, action, adventure, or any genre in-between, entertaining movies are always a good source of comfort. Check out the list below to find out about some new films releasing in 2020! 
1. Birds of Prey - February 7 
After splitting with the Joker, Harley Quinn joins superheroes Black Canary, Huntress and Renee Montoya to save a young girl from an evil crime lord. 
2. To All the Boys I've Loved Before: P.S. I Still Love You - February 12 
Lara Jean and Peter have just taken their romance from pretend to officially real when another recipient of one of her love letters enters the picture. 
3. Onward - March 6 
In a suburban fantasy world, two teenage elf brothers embark on an extraordinary quest to discover if there is still a little magic left out there. 
4. A Quiet Place: Part II - March 20 
Following the events at home, the Abbott family now face the terrors of the outside world. Forced to venture into the unknown, they realize that the creatures that hunt by sound are not the only threats that lurk beyond the sand path. 
5. Mulan - March 27 
A young Chinese maiden disguises herself as a male warrior in order to save her father. 
6. The New Mutants - April 3 
Five young mutants, just discovering their abilities while held in a secret facility against their will, fight to escape their past sins and save themselves. 
7. No Time to Die - April 10 
James Bond has left active service and is enjoying a tranquil life in Jamaica. His peace is short-lived when his old friend Felix Leiter from the CIA turns up asking for help. The mission to rescue a kidnapped scientist turns out to be far more treacherous than expected, leading Bond onto the trail of a mysterious villain armed with dangerous new technology. 
8. Antebellum - April 24 
Successful author Veronica finds herself trapped in a horrifying reality and must uncover the mind-bending mystery before it's too late. 
9. Black Widow - May 1 
Natasha Romanoff, also known as Black Widow, confronts the darker parts of her ledger when a dangerous conspiracy with ties to her past arises. Pursued by a force that will stop at nothing to bring her down, Natasha must deal with her history as a spy and the broken relationships left in her wake long before she became an Avenger. 
10. Wonder Woman 1984 - June 5 
Wonder Woman comes into conflict with the Soviet Union during the Cold War in the 1980s and finds a formidable foe by the name of the Cheetah. 
11. Soul - June 19 
Joe Gardner is a middle school teacher with a love for jazz music. After a successful gig at the Half Note Club, he suddenly gets into an accident that separates his soul from his body and is transported to the You Seminar, a center in which souls develop and gain passions before being transported to a newborn child. Joe must enlist help from the other souls-in-training, like 22, a soul who has spent eons in the You Seminar, in order to get back to Earth. 
12. In the Heights - June 26 
A feature version of the Broadway musical, in which a bodega owner has mixed feelings about closing his store and retiring to the Dominican Republic after inheriting his grandmother's fortune. 
13. The French Dispatch - July 24 
Wes Anderson's newest love letter to journalists set at an outpost of an American newspaper in post-war 20th-century Paris that centers on three storylines. 
14. The Conjuring: The Devil Made Me Do It - September 11 
A chilling story of terror, murder and unknown evil that shocked even experienced real-life paranormal investigators Ed and Lorraine Warren. One of the most sensational cases from their files, it starts with a fight for the soul of a young boy, then takes them beyond anything they'd ever seen before, to mark the first time in U.S. history that a murder suspect would claim demonic possession as a defense. 
15. Venom 2 - October 2 
Sequel to the box-office hit film Venom.
16. The Witches - October 9 
Based on Roald Dahl's 1973 classic book The Witches, the story tells the scary, funny and imaginative tale of a seven year old boy who has a run-in with some real-life witches. 
17. Halloween Kills - October 16 
A sequel to Blumhouse's Halloween (2018).
18. Eternals - November 6 
The Eternals are a team of ancient aliens who have been living on Earth in secret for thousands of years. When an unexpected tragedy forces them out of the shadows, they are forced to reunite against mankind's most ancient enemy, The Deviants. 
19. Escape Room 2 - November 30 
Sequel to the film about strangers who find themselves in a maze of deadly rooms. 
20. West Side Story - December 18 
A remake of the 1961 film about two youngsters from rival New York City gangs fall in love, but tensions between their respective friends build toward tragedy.