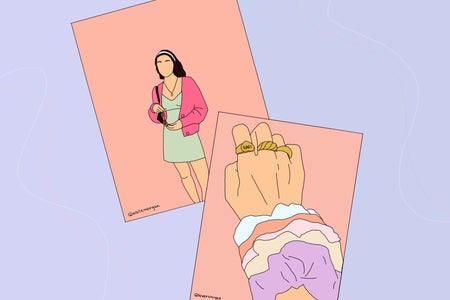 Girl Boss Alert: Meet Kaile Morgan Owner of Lovers in Lace
Meet Kaile Morgan the Girl Boss behind Lovers in Lace! As an 18-year-old student, she has managed to start up a small accessory business known for its positivity and aesthetically appealing packaging. Kaile is born and raised in San Francisco, California, and has not only managed to create a highly-rated Etsy shop, but she has also created an Instagram community which she calls Lovers. Many know her as a style icon, and many of her outfits can be found under the Pinterest fashion aesthetic. Lovers in Lace is a shop loved by many, as Kaile pays special attention to the details (like writing a special and customized note for every single customer to thank them for their support), which makes her shop one of a kind. Like any small business, there is a story behind its creation, and I couldn't help but reach out to learn more about Kaile and what's behind such a devoted shop.
1.

What is Lovers in Lace and what does it mean to you?

A: "Lovers in Lace is a small accessory business that I created in 2018 with a focus on positivity and self-love! It was a place for me to feel comfortable with myself, where I was able to create accessories that I loved while sharing them with the world."

2.

What inspired you to create a small business like Lovers in Lace?

A: "I had a really hard year in 2018. I felt like I was a burden to my friends and was always the second choice. In general, I didn't have a positive mindset. I cried to my parents, had those nights that I just stared at a wall for 20 minutes, and didn't have any motivation to do any schoolwork. That took a huge toll on me mentally, and I knew for a fact that being at Harry Styles' shows would completely turn my mind around. Being 16 at the time, many places didn't hire, so I wanted to find a way to raise money to see him again. On my 17th birthday, I decided to make little goodie bags for a couple of my close friends with personalized pins and scrunchies inside. I had so much fun making them, and I knew that the friends and people I met through Harry are some of the most down to earth people. On top of that, being with them in a place where inclusion, love, and kindness is emphasized was something I just really wanted to experience again. So for the sake of me and my mental health, I started Lovers in Lace to fund my ticket expenses! Through that, I found something I loved doing that distracted me from whatever negative thoughts I had in mind at the time."

3.

How do you come up with the names for your items such as your scrunchies?

A: "My products are named after my friends! From the very beginning, I wanted to celebrate everyone around me because I'm so lucky and fortunate to have such positive and uplifting people around me. Naming my products after my friends was probably one of the most fun and engaging ways to say 'thanks for everything you've done for me, I appreciate you for your support, and your kindness.' "

4.

What opportunities has Lovers in Lace given you and how has it changed your life?

A: "Lovers in Lace introduced me to so many incredible, amazing, and unreal experiences that I wouldn't have gotten without it. Although I am still a small business, I kind of found myself through it. I want to help people and be there for as many people as possible. Having "You Are Loved" on every package and getting such positive feedback is all I really want and strive for. As long as I know that I'm helping someone, I know that my business is getting somewhere. It's not really about the money or the recognition anymore. It's more about spreading the love and kindness that we all deserve to get. I've been mentioned in Vogue Australia (in a small To All The Boys I've Loved Before merch article) and Clevver News (for the same reason). It's kind of just sitting in the back of my head as if it didn't happen. Like yeah it's cool, and that's such a huge accomplishment, but I'm here to help and be there for people. I want to make people feel loved and important because that's a feeling that I want everyone to feel. Since I was in such a low and negative mindset before, I don't want people to feel that way."

5.

Where do you see yourself in the future with your business and education?

A: "I'm actually choosing which college I'll be going to right now! Despite only getting into two out of the fourteen that I applied for, I'm grateful that I got into my top choice university! During the whole college admissions process, I told myself, 'Business, I want to do business! I love what I'm doing! Business is totally me!' Through Muses of Genesis [an Instagram community to spread creativity through original edits] brought me to the realization that graphic design is for me. So, business-wise I'd love to continue Lovers in Lace, but I'm not sure about how much time I'll have on my hands. If anything, I'll continue selling stickers as I design them and have another company print them for me, but scrunchies and pins will take up far too much of my time in Uni! I've learned to not tell myself something to live up to those expectations, but to figure everything out as I go! So I'm Kaile, a graphic design major!"

6.

What is a quote that's important to you and why?

A: " 'Dwell on the beauty of life. Watch the stars, and see yourself running with them.' by Marcus Aurelius! Gosh, I remember reading that quote for the first time last year, and I just knew it would be my favorite quote of all time. I think one thing it reminds me of is this dream that I've always had to stargaze with someone that I had a connection with, [a] boyfriend (let me get one first), best friend, etc. It's so peaceful, and I like making connections with people beyond what we see on the outside. To me, This quote kind of keeps me in check to be optimistic, to do things because I want to do it, to not let anyone tear me down, to believe in myself, and to set goals that I can accomplish. I think just stepping back, relaxing, and looking at all the good you've done is something we all need to do sometimes. We admire things we can almost never be, or have so it's an optimistic mentality I guess."

7.

What advice would you give others that want to start a business but are too scared to do it?

A: "Do it! You make so many connections, and you realize how much you can change someone's day. You learn from everything that happens throughout the journey. Practice makes perfect! I've had to change materials, elastics, fabrics, etc. since I started and once you get the perfect combo…that's a huge pat on the back to you! I say go for it and be true to yourself. Show yourself in your brand, be original, stand out, and make yourself different! Do you! No one else gets to determine what you do, how you do it, and when you do it but yourself!"
Kaile Morgan wraps up with a positive message where she reminds us of the importance of being ourselves. As a young Girl Boss, she started a business to create a loving environment for everyone. Please make sure to check out her shop on Instagram: @loversinlace and check out her scrunchies, stickers, clips, and pins! Remember to keep supporting small businesses!