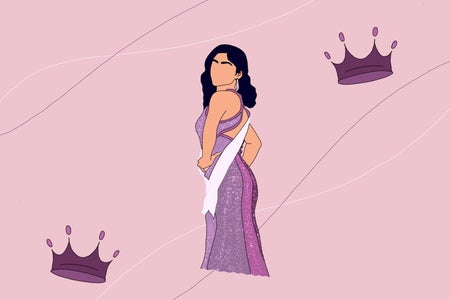 Girl Boss Alert: Meet Daisy Carranza Miss Fort Worth Hispana Latina 2019
Meet Daisy Carranza, the Girl Boss behind the title of Miss Fort Worth Hispana Latina 2019! As a 19-year-old, Daisy is a Girl Boss that has worked hard to achieve her dream of earning a title within a beauty pageant. There is much more behind the beauty contests that showcase girls in gowns and glitter. It is a process that requires dedication as the program intends to educate its participants, so they become more confident and aware of their capabilities. According to Miss Fort Worth Hispana Latina, there is a responsibility that comes before anything else, and that is to serve others. She holds a title which she values for her opportunity to help within her community. Daisy proudly represents Fort Worth and spreads positive messages about self-love and women empowerment. To learn more about her journey to the crown and what projects she's pursuing in the future, I reached out to hear more about her story.
1.

What does being Miss Fort Worth Hispna Latina mean to you?

A: "Being Miss Fort Worth Hispana Latina is more than just having a title, a sash, and a crown. It's being able to give back to my community and help others in different areas where help is needed."

2.

What inspired you to participate in the beauty pageant?

A: "Well actually, I was just scrolling through Instagram one day, and it popped up as an ad...so I clicked on it and started looking at it. I just saw how confident all of these girls were like in their bodies, and they weren't like the skinniest girls, they weren't the tallest people. As a little girl, I always watched America's Next Top Model, Nuestra Belleza Latina, and always aspired to be like them...onstage one day. So I was like well they're not discriminating...I just wanted to join it. It's basically like a program for empowerment and helping you become a better person."

3.

Can you tell us more about the process you went through and your preparation?

A: "Yeah, so throughout the journey as a contestant, I had to attend practices monthly where we would focus on a different area each practice. One day we would focus, on like our walk and posture. Another day we would focus on interviews, [then] we would focus on self-empowerment. It was just like getting to know the girls, getting to know ourselves most importantly, and like growing as a person. Pageant weekend was in August, so that weekend we stayed like three days in a hotel where we had no access to seeing our parents. We couldn't talk to anybody else but the contestants so we can bond. It was a fun experience. We did different activities, we had makeup classes and fitness classes. The day before the actual pageant, where they were going to crown the actual winner, we had preliminaries which are like where we have an interview with the judges."

4.

What is something you learned from participating in the pageant that you wish others knew about?

A: "Something I want the people to know is that pageants are basically what people think is 'oh getting dressed up and going to look pretty and smile and like be all perfect' [but] nobody's perfect we all have our weaknesses. They're not looking, for the prettiest girl, we're all beautiful. They're looking for someone beautiful not only on the outside but on the inside as well. [Someone] who has something to offer to the community and is willing to help make a change."

5.

What has your title as Miss Fort Worth Hispana Latina allowed you to accomplish?

A: "So right now, my title has helped me get in contact with a lot of people. I have a ton of sponsors because we have to get our sponsors on our own, we do have some sponsors that like our director helps us with but for the most part [it's on our own]...I'll be competing for state in July so for state I have to take my own sponsors so it helped me get out of my comfort zone, and like reach out to people to find sponsors. One of my biggest sponsors that I'm like in the process of getting is Whataburger, which is something big."

6.

Are there any empowered women that inspire you everyday?

A: "Yes, my director, her name is Edna Tijerina. She is someone who inspires me. She might be really small, but she's spicy and sassy. She's like always on the go. She has connections here and there and always helps others non-stop. Like right now for COVID-19…she [is] helping the elderly still...and risking her own life to try to help them with supplies, food, and toiletries."

7.

Is there any message you want to share through your title of Miss Fort Worth Hispana Latina?

A: "Yeah, so basically the message that I want to share is to not let anyone stop you from doing what you aspire to do. If you can think of it, then you can achieve it by putting hard work and dedication."

8.

Where do you see yourself in the future professionally or with your education?

A: "In the future, I plan to start a nonprofit organization to help women who were abused or have mental illnesses. I want to help them, how the pageant helped me to gain confidence in myself and carry myself very high. I want to help other women do the same thing and help them get out of the hard times they are going through."

9.

What is some general advice you'd like to give to the people reading this?

A: "Advice I would give [is] not everyone is going to agree with you, there are people that are going to disagree with you, that are going to be against you. That shouldn't stop you, from doing what you want to do, you're not born to satisfy everyone. You're here to satisfy yourself and be content with yourself."
As Miss Fort Worth Hispana Latina 2019 closes the interview, she shares a positive message to remind us all of our worth: "everyone is beautiful, in their own way, we all have something to offer." Please make sure to follow her on Instagram @carranza__ to see what she's up to and support her in future beauty pageants.