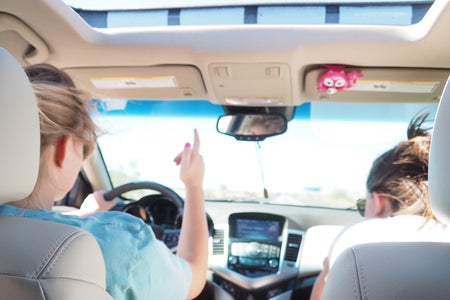 Discover Weekly's Biggest Competition: Nadia's Weekly Playlist
My personality consists of few things: having great music taste, being an art minor, and liking the Neighbourhood. My three personality traits combined are why I am the most credible source out there for making the best Spotify playlists. Sorry, I don't make the rules.
Anyway, that's why I decided to give Spotify a run for their money and write an article every week about my favorite songs of the moment. They might not all go together, but they're my favorites at the moment. Some might be years old and others may be brand new, but whatever they are, I'd love to share them with you! Check out my first weekly playlist here to discover (or rediscover) some great songs and artists, and keep reading to get a little background on why I chose to include certain songs in this week's playlist.
Chin Up - Sarah and the Sundays
Sarah and the Sundays has been one of my favorite small bands since September and is pretty much the only band I've been listening to for the past week. Why? Because I somehow convinced the entire band to eat dinner with me and my two friends last weekend after they played a set in College Station. The Insta DM convo went a little (a lot) like this:
Me, 7:17pm: Pull up to Taco Crave in Downtown Bryan and I'll cover your bil. It's down the street from the venue.
Sarah and the Sundays, 8:24pm: When?
Me, freaking out that they actually responded, 8:28pm: Now, but this place closes at 9, so we can also go to RX Pizza if you're down!
SATS: Ight word where at
Me: Pizza or tacos?
SATS: Pizza would be cool.
And then they pulled up to RX Pizza and we paid for their entire bill. It was definitely weird since we were eating with five strangers, but they were super cool, nice, and friendly! I'd definitely recommend listening to this talented group of dudes. My favorite tracks are Chin Up, Moving On, and Playing God.
Oh, Porches. I'm already predicting that they'll be my second most played artist this year (no one ever beats the Neighbourhood) and I'm going to be seeing them live so soon! I'm so excited! 
Porches is an AWESOME band. They're a synth-pop group from New York who have been making music for quite a few years and they only get better. Their music definitely isn't for everyone, but the few people I know who like them (they're pretty small) like them a lot. They make a ton of sad songs that don't sound sad. It's a weird mix of emotions but that's what makes them great. Black Dress, Car, Skinny Trees, rangerover, and Mood are my favorite tracks. Car is a fun song. Ask my roommate and fellow HC author, Madison, how many times I've listened to Car on repeat. It's an addicting song and I don't know when I'll be tired of it. It used to be my go-to sad song, but I finally learned how to listen to it when I'm not sad. Definitely an improvement.
My favorite song to play while getting ready in the morning. It's not too upbeat to where it's more energetic than you, but it's not super slow and sad to where it'll put a damper on your day. I also just feel so feminine and girly when listening to Queen Kacey, so it just really gives me a good start to my day.
I hope you enjoy this playlist and feel free to check back next week for another. Follow me on Spotify to find my other playlists! <3