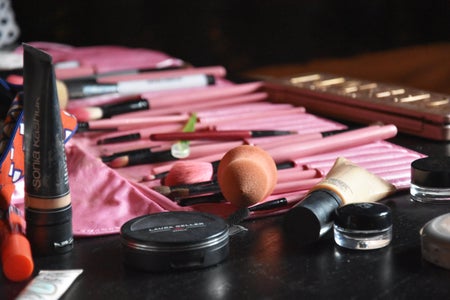 Anna Thetard / Her Campus
5 Mascaras You Will Not Regret Adding to Your Makeup Collection
I've tried lots of mascaras over the years, from the "OG" Great Lash mascara by Maybelline to my latest purchase of Bad Gal Lash by Benefit. While the higher end brands are staples in my collection, I still find myself repurchasing drugstore brands when I run out of them. These seven mascaras have different benefits, but I layer at least three of them every time I do my mascara.
1.

CoverGirl's Lash Blast Volume Mascara

I've used this mascara for a long time...pretty much since middle school. This is probably my go-to mascara. If I'm traveling, and I've forgotten to pack mascara, I know I can just run to any drugstore and grab it. The amount of bristles on the wand makes it a great volumizing mascara. I always start with this mascara when doing my makeup.

2.

Benefit's Roller Lash Mascara

Benefit is one of my favorite high-end brands for mascara. Roller Lash has a curved wand that makes it super easy to add a lift to your lashes without using an eyelash curler. (I never use an eyelash curler.) In my mascara routine, I usually use this mascara as a second layer to add a curl to my lashes.

3.

CoverGirl's Lash Blast Active

This is the third mascara I use when doing my makeup. This is another great drugstore option if you don't want to break the bank. This wand is smaller with finer bristles, so I like to use it to brush out any clumps in my lashes. It might seem like I am putting a lot of mascara on, but, trust me, it doesn't look caked on.

4.

Benefit's Bad Gal Lash

This is one of my most recent purchases. I use this mascara for nights out when I want my makeup to pop more. The wand is tapered and has thick bristles, so it gives my lashes a lot of extra volume. I like how it is tapered because I can get the eyelashes closest to my inner and outer corners.

5.

Urban Decay's Perversion

Lastly, this mascara is one I use for a more dramatic look. It's one of the blackest mascaras I have ever purchased. The wand is a good shape and has bristles that aren't too thick, so it's easy to apply mascara with it. I don't use this mascara as often as some of the others, but when I do, my eyelashes really pop.
Those are my top five mascara recommendations. I've purchased all of these at least twice. While the Benefit and Urban Decay mascaras are a little pricier, they are definitely worth it in the long run, especially if you don't want to deal with the hassle of fake eyelashes or eyelash extensions. The CoverGirl mascaras are affordable and great for beginners and avid makeup users. Basically, I love them all and hope you try them, too.