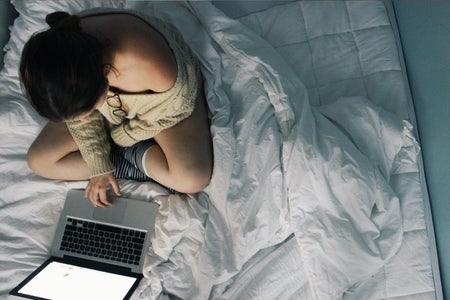 Anna Schultz / Her Campus
10 Of My Favorite K-Drama Recommendations
10 Of My Favorite K-Drama Recommendations
This past year, all I have been watching are Korean dramas (K-drama). I am obsessed. The scripts, acting, soundtracks, and visuals (including the actors' visuals 😉) are on point! So, if you are ready to try something new, here are 10 of my top K-drama recommendations.
1. What's Wrong with Secretary Kim
Genre: Romantic Comedy
Main Actor: Park Seo Joon
Main Actress: Park Min Young
This the drama that made me fall for K-dramas. This romantic comedy consists of 16 episodes (1-hour run time) that take you on a roller coaster of emotions with a hint of mystery. The main girl is the secretary of a handsome, young, eccentric CEO of a successful corporation who is reaching her thirties and decides she is ready to find love and start a family. When confronted with her resignation, the CEO realizes he does not want to lose her. As this realization faces him, he rises to the challenge of expressing his love in an attempt to keep her by his side. A twist of childhood mystery complicates their relationship as her memories begin to surface. Will his love and affection be enough to keep her from leaving?
2. Strong Woman: Bong Soon
Genre: Action, Thriller, Romantic Comedy, Drama, Supernatural
Main Actor: Park Hyung Sik
Main Actress: Park Bo Young
This cute drama consists of 16 episodes (1-hour run time). A young, aspiring, female game-maker born with supernatural strength is hired by a handsome, young, spunky CEO, who is being threatened by an unknown enemy, as a bodyguard. She is small-sized, as all cute things come in small packages. While someone is threatening her boss, a serial killer is running rampant in her neighborhood. Will she be able to protect her neighborhood? Will he be able to protect her?
3. Suspicious Partner 
Genre: Romantic Comedy, Suspense, Thriller, Crime
Main Actor: Ji Chang Wook
Main Actress: Nam Ji Hyun
This romance with mystery and crime consists of 40 episodes (30-minute run time). The main girl is a lawyer in training who unknowingly witnessed a crime and is, therefore, framed for murder. The prosecutor training her is given her case and works to unravel this mysterious crime. Through their interactions, they fall in love; however, their pasts threaten to break them apart. Will the past win, or will they be able to overcome it together?
4. W
Genre: Action, Suspense, Thriller, Romance, Fantasy
Main Actor: Lee Jong Suk
Main Actress: Han Hyo Joo
This drama consists of 16 episodes (1-hour run time). A parallel world is brought to life through the hands of the main girl's father, an eccentric webtoon writer. The main girl is sucked into the world of the webtoon when the main guy, aka the main protagonist of the webtoon, is in dire need. She saves the protagonist and is pulled back into our world. The main guy goes on a search for his mysterious savior only to find her when she is pulled back in to save him. He keeps her in his world to find out more about her and unwittingly falls deeply in love. Will they be able to discover the mysteries connecting their two worlds while solving the protagonist's mystery in his own world? Will the protagonist be able to rise above his writer's plan and identity as a character in someone's webtoon?
5. A Korean Odyssey
Genre: Horror, Comedy, Romance, Fantasy
Main Actor: Lee Seung Gi
Main Actress: Oh Yeon Seo
This fantastical drama consists of 20 episodes (1 hr. 20 min run time). Based on the Chinese tale of The Monkey King, A Korean Odyssey tells the story of an eccentric deity who is caught having his heartstrings pulled by a girl with mysterious qualities. They band together to fight ghosts when a powerful enemy arises. Fate backs the two protagonists into a corner with a cruel prophecy: one will die by the other's hand. The deity and female lead work to save each other in their own way.
6. Guardian: The Lonely and Great God (Goblin)
Genre: Fantasy, Romance, Supernatural, Comedy
Main Actor: Gong Yoo
Main Actress: Kim Go Eun
This heart-wrenching tale is comprised of 16 episodes (1 hr. 20 min run time). This drama leads you by the heartstrings as it guides us through a story filled with Korean legends and tragedy. A man who is cursed to live on while watching his loved ones die searches for a bride who will end his misery. As he searches, he runs into a strange girl and a Grim Reaper. The three are determined to fight fate, but what consequences will come with doing so?
7. My Holo Love
Genre: Romance, Sci-Fi, Melodrama
Main Actor: Yoon Hyun Min
Main Actress: Go Sung Hee
This heartfelt drama consists of 12 episodes (55 min run time). My Holo Love revolves around a girl, an AI, and a human man. Can an AI learn to love? Can humans rise above their past? Can a human love an AI? What is love? Follow the story of an ordinary girl caught up in a whimsical romance while the world watches.
8. Are You Human Too?
Genre: Sci-Fi, Fantasy, Romance, Drama
Main Actor: Seo Kang Joon
Main Actress: Gong Seung Yeon
A female scientist, stripped of her child, creates an AI replica to comfort her. When her human son comes in search of her, he unexpectedly meets his AI twin. After an unfortunate accident, the AI will have to live as his human counterpart. Will the AI be cast aside and discarded when the human returns? Will the boys learn they are their own being? Can AIs be seen as humans? Can AIs and humans live in the same world?
9. Abyss
Genre: Mystery, Fantasy, Romance, Law
Main Actor: Ahn Hyo Seop
Main Actress: Park Bo Young
A below-average-looking man is dumped by his gorgeous fiancé. While mourning the loss of his engagement, he is accidentally thrown off the roof of a building by a gust of wind; however, mystical beings bring him back to life using a mysterious object called an Abyss. Upon waking, he finds out that his body has transformed into a tall, handsome man. The Abyss remains with him and can bring others back to life. The man's friend and childhood love is then murdered. Will he be able to save and protect her from her killer?
10. Crash Landing on You
Genre: Romance, Military, Drama, Political, Romantic Comedy
Main Actor: Hyun Bin
Main Actress: Son Ye Jin
While paragliding, a successful businesswoman in Seoul, The Republic of Korea (South Korea), is blown into the arms of a North Korean military captain. She finds herself in love with unexpected people in unexpected circumstances. Will she be able to find her way home? Will the captain be able to protect her?
These are all dazzling stories!  If you want to try something new, I highly recommend these 10 dramas to introduce you to the genre of K-Dramas!