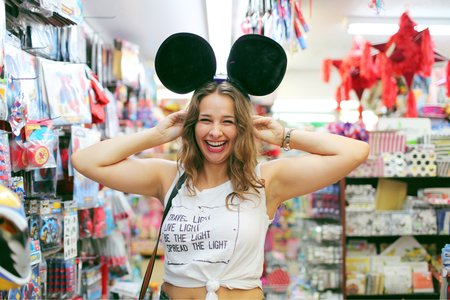 Over spring break I decided to check out this shop in my home state called Vidler's 5 and 10. While I had been to this place once before as a child, it had been years since then. This store is a variety shop and is spread out over multiple buildings, making it quite the experience.
The type of items that I found in this place ranged from jewelry and purses, to cards and cooking utensils, to childhood toys and candy. One of my favorite discoveries was finding the hand finger puppet gag gift. If you don't know what this is, it's a tiny hand that you can put on your finger. I was able to have a lot of fun with this toy and created some pretty funny videos.
Lastly, my favorite area within the whole store was the candy shop area. I love anything sweet and this was definitely a treat. They had newer types of candy such as Twix and Kit Kats, but with a twist. The filling for Twix was cookies and creme and the Kit Kats were Mint and Dark Chocolate. But the store also had some old-fashioned candy such as Candy cigarettes, Zagnut, and multiple different flavored Cow Tales.
Overall, just walking through the store and looking at every little thing was such a cool experience. This was a fun little adventure that my mom, sister and I were able to do close to home.