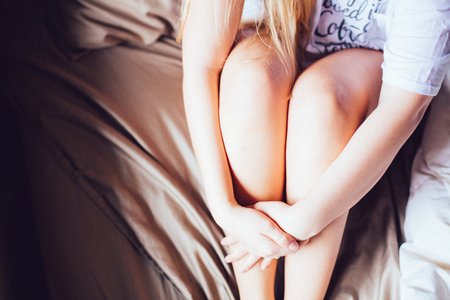 Breanna Coon / Her Campus
5 Songs You Need When You're Sad
1. Don't Check On Me - Chris Brown, Justin Bieber
In this song Brown and Beibs are telling their ex's to leave them alone.  If you have an ex that keeps popping up intentionally or unintentionally, this is a good one for you.  Personally I like this song because it has a good beat. It's not too sad like John Mayer, but it's also not too fast paced when you're not in the mood. 
2. Better Me - SoMo
In the first seconds you hit the play button you just feel this song.  Another song about relationships, but it doesn't have to be if you think more about the beat than the lyrics.  SoMo is always soothing to listen to, but this song has a bit of an upbeat pace to keep you out of your feels.
3. You Should Be Here - Kehlani
Kehlani has a special place in my heart.  Her voice is so unique and this song is perfect.  This is one of those songs you can belt out when your frustrated with someone who isn't giving you the attention you want.
4. Phases - PRETTYMUCH
THIS SONG.  This song builds and is another one with a good beat to keep you out of your feels.  I like to listen to this one when I'm studying. You can't help but want to learn the lyrics and sing along.
5. Be Somebody - CVBZ
To stick with the pattern this is another song that could feel sad but has a good beat to keep your spirits up.  I like to listen to this one anywhere.  I study with this song and even run to it at the gym.  This song motivates you to be your best and show that person you will be somebody.