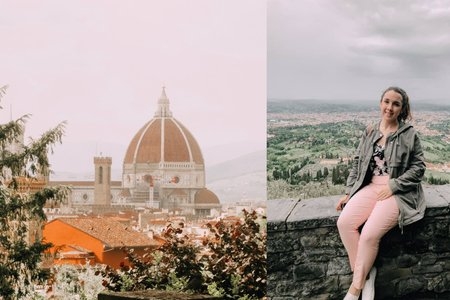 Why Studying Abroad Was Everything and Nothing I Expected All at Once
Although many are drawn to Susquehanna because of its study abroad requirement, I had never thought that much about it. Sure, I love to travel, but taking classes in another country while adapting to its cultural differences seemed intimidating. Yet, it also seemed inspiring – a dream come true, even. I have always wanted to visit Italy since I began Italian classes in sixth grade and this was the perfect opportunity. The catch, though, was that there wasn't a GO short program that was of much relevance or interest to me in Italy. I didn't expect that I would ever go out of the country for the first time all by myself on a Go Your Own Way – but I did – and it was everything I expected and nothing I expected all at once.
I expected there to be an adjustment period, but I didn't expect the transition to come so easily.
There was a slight language barrier, but my Italian language skills – despite not having been used for a year or two – came majorly in handy. Plus, the time difference – 5 hours – wasn't that bad thanks to an overnight flight and a good night's sleep upon my arrival.
I expected to meet new people, but I didn't expect to feel like I belonged nearly right away.
Setting off on this adventure, I didn't know anyone so of course I expected to meet new people along the way. But right away I started building relationships with people who were just as uneasy to navigate through this once-in-a-lifetime experience as I was.
I expected the food to be SUPER good, but I didn't expect it to taste noticeably different from American food!
Italy is notorious for being all about the food: pizza, pasta, gelato… you know the rest. Everything is authentically made-- much less processed and without many of the additives that American food has. You could taste the difference in everything from bread to meat. I definitely ate more than usual over my six-week experience, but I actually lost some weight and overall just felt better in my skin. The food was so delicious and made me realize that American food is so processed.
I expected to grow as a person, but I never expected to discover as much as I did.
I had never been out of the country before and I wasn't sure how I would adjust. I never had lived independently – sure, in a dorm, but not in an apartment where you're totally on your own with no access to a dining hall or people to clean your space. I proved to myself that I am capable of so much more than I thought I ever could be.
In the end, I couldn't have had a better experience if I tried and I can't wait for my next adventure.