Festive Feminism: A Possible Female Santa in "Noelle"
I love Christmas as much as the next girl, but I believe old-fashioned Christmas movies are by far the best. The storylines seem fresh and new, the filming has that retro look, and the music is timeless. However, the Hallmark channel, among other movie channels, releases tons of new holiday content every year. The Christmas movie canon is multiplying with such speed that it's impossible to track. I was begging for the return of Christmas classics such as White Christmas (1954) and A Charlie Brown Christmas (1965), but one new 2019 film caught my attention. Noelle premiered on Disney Plus last month and this past week I watched it for the first time. I was astounded by the unique and creative plot, hilarious gags, wonderful cast, and modern themes. It embraces the fact that it's a Christmas movie for a new generation and it runs with that, all while keeping the innocence of the holiday intact.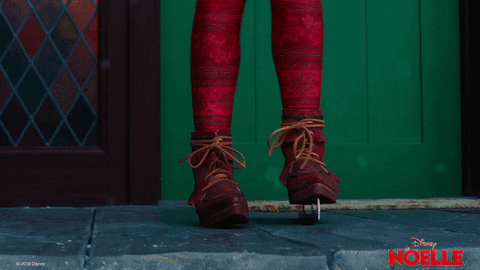 Like all great Christmas movies, Noelle keeps the premise short and sweet. The movie's main character is Noelle, played by the amazing Anna Kendrick, also known as Santa's daughter. Already this movie is off to a cool start! Kendrick's character spends the film training her brother, Nick, to become the next Santa after their father's death. When her brother leaves the North Pole, Noelle goes off to find him and save Christmas. What makes this movie so special is the fantastical worldbuilding. The North Pole is reinvented with trees everywhere, as if it's alive in the middle of a grand forest. There's a cafe where the characters have special hot chocolate orders and Noelle's room is decked out with magazines and snacks. The detail and design work on this movie is truly exceptional.
In addition to the set design, the chemistry between the cast is dynamic. Noelle and her brother Nick, played by Bill Hader, are the ultimate sibling goals. They protect and inspire each other. When Nick confesses to Noelle about feeling unhappy in a sentimental moment, Noelle comforts him and tells him he should take care of his mental health. It's a sweet scene that starts the movie off on a high note. Throughout the movie, Noelle tirelessly defends and assists her brother no matter what. Nick admits later that Noelle is the sister that always makes him better.
However, the best part of this movie is Noelle's character arc and the identity of Santa. Since the identity of Santa is passed down in her family, the question throughout the film's duration is: could Noelle become Santa? Everyone assumes her brother will become Santa because of his gender, but it's clear Noelle has more magic powers than her brother. The movie insists that being Santa is only for guys, but then as Noelle gains confidence in herself, more characters begin believing in her. This transition is interesting because as Noelle starts to believe in herself, so does the audience. I won't spoil the ending, because it really is a surprise that no one could see coming, but having Noelle go from doubting herself to grinning with confidence is the feminist boost I needed.
My favorite moment of the movie had to be when one of the senior elves shouted, "Santa's not a girl!" Then one of the female elves yells back at him. It's this small but significant moment when you see the background characters make a statement. I love how the women in the movie defend Noelle and speak up for her. This movie's message is important and inspiring for young girls and women. Ultimately it doesn't matter what gender Santa is, as long as he helps children all over the world.