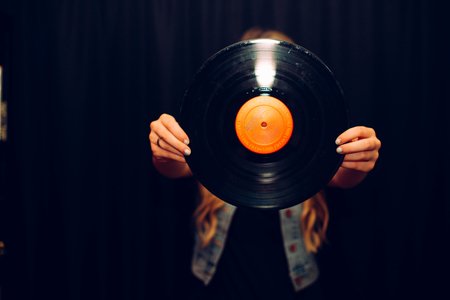 Breanna Coon / Her Campus
February 2020 Feminist Anthems
During February, the only playlists advertised are full of corny love songs. Not everyone loves this type of music; it even makes some people depressed. In need of a change, I built my own power playlist for every occasion— working out, speed walking to class, studying late at night, or dancing with friends. Some of the songs are new from 2020 while others are classic, feel-good favorites.  
1. "The Man" by Taylor Swift
Even if you're not a major fan of Taylor's music, these lyrics are still empowering! It's all about being the best woman you can be while competing in a man's world. It's perfect for a day when you want to feel strong and independent. This powerful 2019 bop will make you scream, cry, and shout in gratitude.
2. "Good Thing" by Zedd featuring Kehlani
It bothers me that this clever song is so underrated! This 2019 ballad has strong vocals, passionate lyrics, and a beautiful message overall. It's all about the best reasons to be single! It's also about self-confidence and why women don't need men to give them power. I stumbled on this song by accident and isn't that the best feeling when that happens?!
3. "Maniac" from Flashdance
Okay, if you've never seen the movie Flashdance (1983), we have an even bigger problem! Go watch it right now because it is everything a great movie should be. This song in particular plays during one of my favorite scenes. The heroine just lets go and dances her heart out. This song is legendary and will never go out of style!
4. "Like a Girl" by Lizzo
From the first line about running for president to the last exclamation of "like a girl!" this 2019 bop is certain to go down in history. Frankly, all of Lizzo's songs are this iconic! "Like a Girl" is about female empowerment and what makes women special. If you take a look at the lyrics, they're focused on how each woman is special in her own way. Something about this song makes you want to grab all your girlfriends for a karaoke night.
5. "6 Inch" by Beyonce featuring The Weeknd
No one ever talks about this amazing 2016 Beyonce song and that makes me so sad! It's dramatic and badass from the very first line. Beyonce and The Weeknd are a dream team and wow do their voices work well together! Even though the song is about a girl wearing high heels, this song makes me feel intimidating even when I'm wearing Converse sneakers.
6. "Criminal" by Fiona Apple
Speaking of feel-good music, 90s songs will always be there for you! This 1996 song starts off quiet and slow but man does it pack a punch. It's a little bit on the longer side (5 minutes and 41 seconds) but trust me, it's worth it. I loved hearing this song in the recent Hustlers movie. Hopefully, that means that Fiona Apple's songs are making a comeback!
7. 
​"Ain't Your Mama" by Jennifer Lopez
Again this was a song I found accidentally while surfing through Youtube. The lyrics, while at first glance simple, relay a powerful message. It's all about being your own woman and not allowing anyone to make you a placeholder. This 2016 song has all the finesse of a 90s song! It's one of those songs that will get stuck in your head for days in the best way.