I've never been about the tricks, but I'm all about the treats. As a transitioning vegan, this is certainly a difficult time being surrounded by caramel, chocolate, and gelatin filled candies. But fear not, the treats don't have to vanish with the animal products. These spooky vegan recipes are easy, delicious, fun to make – and eat- with friends.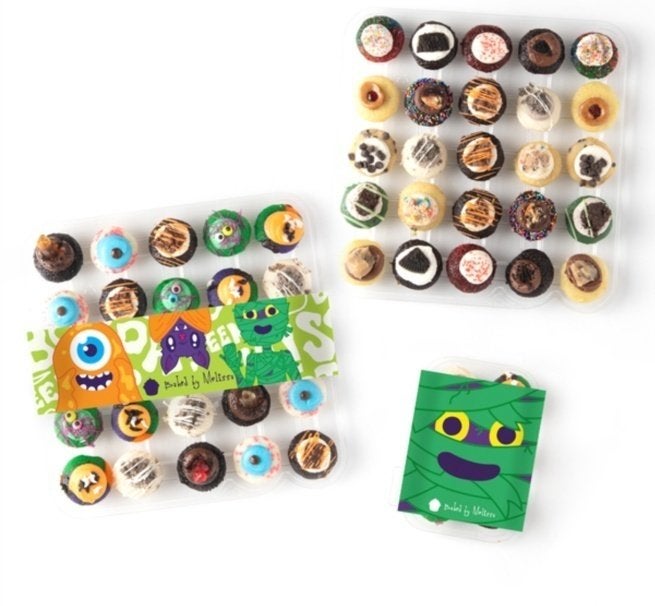 These taco cups are super cute and customizable. The ingredients call for beans, avocado, olives, and onions, but any topping can be substituted in, such as this Chipotle Sofritas copycat recipe, vegan cheese, salsa, or any other topping you might like. The crispy pizza crust used as tombstones make this a spooky taco.
2. Harry Potter Felix Felicis Potion
The Felix Felicis potion is a magical potion from the Harry Potter world that endows the drinker with good luck for a certain period of time. This mocktail is super easy to throw together, and can be spiked with alcohol, kombucha, or sparkling water.
3. Frankenstein Brown Rice Krispie Treats
While Frankenstein is technically the name of the creation's creator, these Rice Krispie treats are a super simple take on the classic chimera. The ingredients call for vegan substitutes and it follows the same process as the original Rice Krispie recipe. When decorating, of course, you could get creative and use different color food dyes to make different Halloween shapes, such as pumpkins or ghosts. After all, Dr. Frankenstein was quite a creative man.
4. Graveyard Chocolate Mousse Pots
This vegan mousse recipe calls for cocoa powder, avocado, sweetener, and nondairy milk. This combination might seem a little strange, but the flavor and texture work very well. The mousse is so simple, and while it's chilling there will be plenty of time to bake the cookie tombstones. Almond cookies with chocolate writing make for the perfect spooky graveyard effect. This recipe calls for a crumbled Nakd bar on top, which could be easily replaced with any chocolate granola or crumbled cookies.
This recipe is so simple, and super healthy for those looking for treats without added sugar. Make sure to take advantage of local apple orchards for this one, fresh apples during the fall is one of the best parts of the season. Once again, this recipe can be customized and would be delicious with any nut butter, a vegan chocolate hazelnut spread, cookie butter, chocolate hummus, or virtually any other spread.
I hope you have a safe and fun Halloween. Bone Appetit!