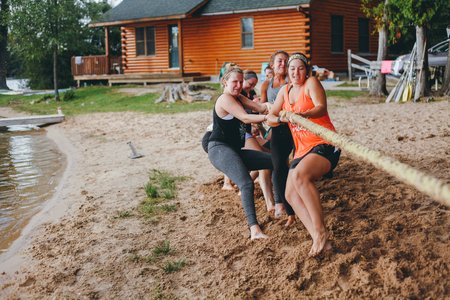 With summer right around the corner, I am reflecting on my days of attending summer camp, specifically my two-week sleep-away Summer camp. From the friendships that I made to the fun traditions, I am grateful for the four summers that I spent at summer camp.
I still remember the first day I was heading off to camp. I was waiting at the local YMCA with enough girls to fill up four full busses. I had my rolling L.L. Bean duffle bag, a backpack, and my pillow to sleep on during the one hour and thirty-seven-minute bus ride. The bus ride felt like three hours as we impatiently waited for our own arrival at the Marina/boat dock. From there, we would take a boat to the island where the camp was. I was so nervous to be a part of a new adventure after years of being on a competitive swim team during the summer. Little did I know that I would return to this camp for four summers in a row.
Here is a list of the aspects of summer camp that made me go back:
The camp that I attended was located in New Hampshire, and I was able to enjoy the beauty of nature. As someone who has arachnophobia (a phobia of spiders), I am certainly proud of myself for sticking around for two weeks for four summers straight. Being on the waterfront was a privilege, and I was grateful for those rare nights that our cabin counselors would take us to see the sunset and an occasional sunrise.

Anna Schultz / Her Campus

The primary reason I started attending this camp can be credited to my best friends from home. I remember signing up for activities with them and requesting to be cabin mates. Luckily, we shared a cabin and from there we developed friendships with so many more girls. While taking the time to make new friendships, I was able to communicate with my friends (and family) from back home via the long-lost handwritten letter (Pen Pals!). On that note, I loved seeing a checkmark next to my name when I got a care package from a friend or my parents. My cabin mates were truly my first roommates and I am so glad we learned about sharing a living space and communal bathrooms, as small as it may seem.

Anna Thetard / Her Campus

The wonderful traditions that the camp has are what make the experience something to remember. I remember sitting in a cabin theater and around a bonfire with the camp's book of camp songs to sing along with. The communal participation allowed us to bond as campers and to bond with our counselors and CIT's (Counselors-in-Training).

What makes the meals so special was not the food itself (with the exception of the delicious desserts!), it was the songs that we sang in prayer and gratitude for the food we were being served, and after our meals for similar reasons. Another reason why we would sing songs after the meal is to teach the new campers our favorite songs, fun handshake games. The counselors would also use this time strategically by limiting how many campers at a time would leave the dining hall either go to their cabins for an hour or to go to the camp store if it was open!

When the camp store was open, it was like heaven. The camp store was essentially a closet (smaller than the ones at an airport), but they stocked the shelves with candy, stuffed animals, sweatpants, sweatshirts, shirts, hats, and stationery to write home. I remember getting the book of camp songs, a packet of M&Ms or the Charleston Chew roll, some stationary (especially stamps), and that one pair of sweatpants that I have since grown out of.

The range of activities at this summer camp was perfect for me. From arts and crafts to water skiing and swimming, to volleyball, I was very happy with the options that were (and still are) offered at this camp! Additionally, since this was a sleep-away camp in the middle of the woods with limited cell reception (or so they said), we were not allowed to have any technology. The only exceptions were the classic iPod Nanos and iPod Shuffles that had no touch screen or internet connection. Remember those?! Being able to put down technology for a solid two weeks created a space to form friendships, truly be in the moment, and learn new skills.
Did you have the privilege to attend summer camp? If so, what were some of your favorite activities and what are some of your favorite memories?
Let us know by DM'ing us on Instagram, Twitter, or Facebook!