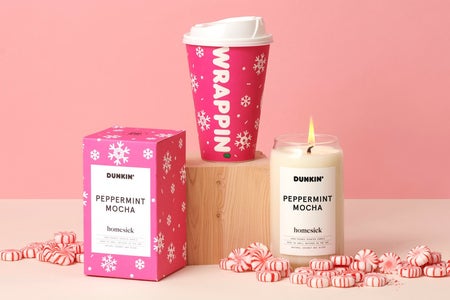 Dunkin Holiday Drink Review
As an avid Dunkin' drinker, I was extremely excited when they announced their holiday drink specials. The fall Pumpkin Spiced Latte got me through the spooky season, but I was ready to transition to Christmas the minute the clock struck November 1st. Although it is strangely warm for this time of year in Canton, NY, these three drinks will instantly transport you to the Christmas season and bring you a cup of holiday cheer. 
The three holiday drinks are the Signature Peppermint Mocha Latte, the Signature Gingerbread Latte, and the Chai Oatmilk Latte. I knew when I was trying these that I had to go all out and get the whipped cream on top.
Signature Peppermint Mocha Latte
My instant reaction to the peppermint mocha was that the flavors were very overpowering. Both the peppermint and the cocoa are strong, but great flavors when mixed together. I got this latte hot, but I almost feel like it would be better iced to chill and soften the flavors. If you like chocolate, this is the drink for you. The peppermint mocha definitely screams Christmas from the rooftops. Overall score: 7/10.
Chai Oatmilk Latte
I was a bit nervous to try this one because I am not big on chai. I honestly did not love this one, and I didn't get a holiday vibe from it. The Fall flavors were really overpowering and I feel like this one does not need to be classified under their featured holiday drinks. Maybe it is because I am biased and don't like chai, but I will not be ordering this drink again. Overall score: 4/10
Signature Gingerbread Latte
I was the most excited to try this drink because I am a big fan of Starbucks' gingerbread latte. After I took my first sip, I instantly knew this one beat the other two drinks by a long shot. There was the perfect amount of gingerbread, and drinking it hot instead of iced made it cozy and festive. This latte would be perfect to sip on while sitting by a fire and watching the movie Elf. I will definitely be ordering this holiday drink again. Skip Starbucks and head on over to Dunkin' for your gingerbread latte! Overall score: 10/10
I was really impressed with Dunkin's gingerbread latte and will definitely be ordering this in the future. My friends and I agree that it is their best holiday drink by a long shot. However, if you are more of a chocolate person, I definitely recommend the peppermint mocha! Honestly, you can't go wrong at Dunkin'. Here is a tip from one of Dunkin's biggest fans: download the app and earn points for every drink you buy and you will receive a free drink. Then, for your next holiday drink, you won't need to spend a dime!
Disclaimer: St. Law U is neither sponsored by nor affiliated with any brands or companies mentioned in this article.