5 Things To Do When Abroad in Vienna
Lauren Donohue
1. Go to Travel Shack
One of my favorite things to do in Vienna is to explore the nightlife and  Travel Shack is one of the best places to go! It's located in the 15th district and is a great place to meet other travelers and some locals! There is always great music and even a room for karaoke.  
2. Go to a Viennese Ball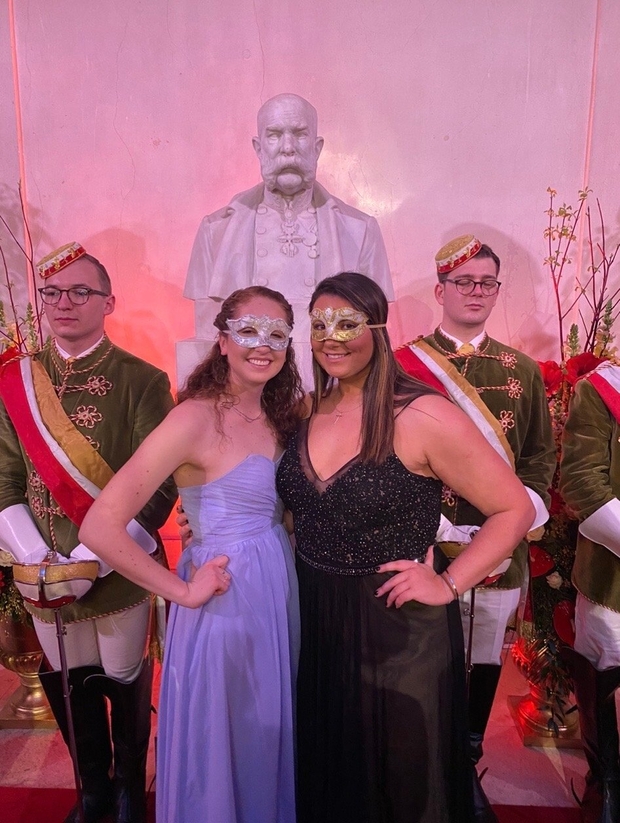 Lauren Donohue
Balls are a huge part of Viennese culture.  If you have the opportunity and the funds to go, it is a must!  There are plenty of thrift shops to buy reasonably priced dresses and there are usually student tickets that are discounted.  Going to a ball is the perfect chance to dress elegantly and enjoy the ceremony of the debutants. My friends and I chose to go to the Rudolfina Redoute ball which is essentially a mascarade ball.  It was held at the Imperial Palace and the women wore masks until midnight. It is a perfect night for dancing and fun!
3. See the State Opera Building
Lauren Donohue
If you are visiting Vienna, the Vienna State Opera is a hard building to miss.  It is one of the most famous buildings and is in the heart of the city in the first district.  You can go to concerts and plays in this building or just walk around the inside during the day.  The most prestigious ball is held annually at the State Opera and many celebrities are invited. Luckily, you could see the building through the window of the institute I was studying at.  It was so great to be able to look out the window during class and see such an amazing piece of architecture.
4. Eat a Käsekrainer! 
While in Vienna, you must eat a käsekrainer, or 10!  A käsekrainer is essentially an amazing hot dog that has little chunks of cheese on the inside.  My favorite way to get it is with ketchup and mustard in a baguette, but you can also get it sliced on a plate with a piece of bread on the side.  These are available at any Wurstel stand which you can find on every other street in the city. They are perfect for students on a meal plan budget and taste amazing.
5. Take a day trip to Bratislava
If you will be in Vienna for over a week, I recommend taking a day trip to Bratislava.  It is only a 45minute bus ride that costs around 10 euros round trip. It is an adorable little city with amazing sightseeing.  If you go, definitely check out the castle and the blue church and appreciate the street music and shops!