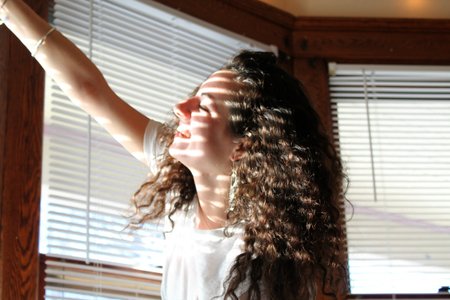 Charlotte Reader / Her Campus
10 Uplifting Poems to Read
With the world in a slump, we can all use a little inspiration and help in lifting our spirits. Everyone has different ways of keeping sane and staying positive. Poetry is a great way to get in some reading and feed your mind with what it really needs right now. You may even get into writing it yourself, which is extremely therapeutic. So try taking a break from the novels or magazines and check out these 10 uplifting poems. 
1. "If" by Rudyard Kipling
If you can keep your head when all about you   
Are losing theirs and blaming it on you,   
If you can trust yourself when all men doubt you,
But make allowance for their doubting too;   
If you can wait and not be tired by waiting,
Or being lied about, don't deal in lies,
Or being hated, don't give way to hating,
And yet don't look too good, nor talk too wise;...
Find the full poem here. 
2. "Still I rise" by Maya Angelou
You may write me down in history
With your bitter, twisted lies,
You may trod me in the very dirt
But still, like dust, I'll rise….
Find the full poem here. 
3. "Do it anyway" by Mother Teresa
People are often unreasonable, irrational, and self-centered.  Forgive them anyway.
            If you are kind, people may accuse you of selfish, ulterior motives.  Be kind anyway.
            If you are successful, you will win some unfaithful friends and some genuine enemies.  Succeed anyway….
Find the full poem here. 
4. "A Time To Believe" by B.J Morbitzer
To believe is to know that
every day is a new beginning.
Is to trust that miracles happen,
and dreams really do come true….
Find the full poem here. 
5. "Keep Sweet" by Strickland W. Gillilan
Don't be foolish and get sour when things don't just come your way-
Don't you be a pampered baby and declare, 'Now I won't play!'
Just go grinning on and bear it;
Have you heartache? Millions share it,
If you earn a crown, you'll wear it-
Keep sweet….
Find the full poem here. 
6. "Count Your Blessings" by Unknown
Count your blessings instead of your crosses;
Count your gains instead of your losses
Count your joys instead of your woes;
Count your friends instead of your foes….
Find the full poem here. 
7. "Mother To Son" by Langston Hughes
Well, son, I'll tell you:
Life for me ain't been no crystal stair.
It's had tacks in it,
And splinters,
And boards torn up,
And places with no carpet on the floor—
Bare….
Find the full poem here. 
8. "Our Deepest Fear" by Marianne Williamson
Our deepest fear is not that we are inadequate.
Our deepest fear is that we are powerful beyond measure.
It is our light, not our darkness
That most frightens us….
Find the full poem here.
9. "It Couldn't be Done" by Edgar Guest
Somebody said that it couldn't be done
      But he with a chuckle replied
That "maybe it couldn't," but he would be one
      Who wouldn't say so till he'd tried.
So he buckled right in with the trace of a grin
      On his face. If he worried he hid it.
He started to sing as he tackled the thing
      That couldn't be done, and he did it!...
Find the full poem here. 
10. "The Road Not Taken" by Robert Frost
Two roads diverged in a yellow wood,
And sorry I could not travel both
And be one traveler, long I stood
And looked down one as far as I could
To where it bent in the undergrowth;...
Find the full poem here.