Will Covid Steal Christmas? Four Ways the Holidays will Look Different This Year
The short answer is no—not entirely. It is true that the covid-19 pandemic has drastically changed the ways in which we can see one another, and that the holidays are about being with the people you love. However, while restrictions put in place due to the ongoing pandemic will undoubtedly change the way we celebrate, there are ways that you can alter your plans for the festivities to still end 2020 on a positive note.
That said, with cases rising exponentially around the world, tighter restriction are already being implemented in time for the holidays. With that in mind, here are four ways that I'm anticipating the holidays will look a little different this year.
1. Travel 
Many of us are accustomed to traveling to visit family over the holidays. The Center for Disease Control (CDC), however, advises that people avoid air travel if at all possible. While you may be able to spend time with your immediate family, visiting your extended family might become difficult. Instead, try to arrange family zoom calls and activities to help make up for the lost time.
Photo by Eva Darron from Unsplash
2. Visiting Elderly Family Members
Most upsetting of all, for some of us, is the inability to visit elderly family members, such as grandparents. The elderly are the most susceptible to Covid-19 and should be particularly cautious about coming into contact with others. The sad reality is that this can feel especially lonely around the holidays. Organize calls with your grandparents and the elderly people in your life to help them stay connected to their families and friends during this difficult time, and if possible, organize a covid-compliant meet-up!
3. Shopping
Buying or making gifts for people you love is a staple of the holiday season. Shops are often packed with shoppers eager to buy adorable gifts for their friends and family members. This year shops will still decorate their storefronts for the holidays, however some, due to covid restrictions, may not be able to be open at all. While there may be restrictions on shops, this is a perfect time to get crafty and make quick handmade gifts for family and friends! Why not bake some gingerbread cookies or make handmade cards?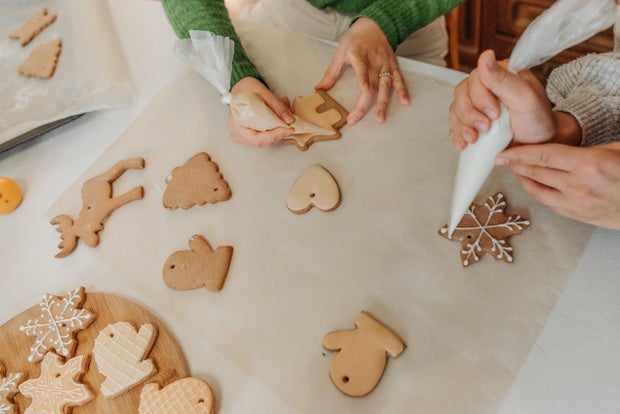 Photo by Pavel Danilyuk from Pexels
4. Distance, Distance, Distance
And finally, physical distancing is critical in preventing the spread of the virus. Even if you meet up with family and friends, the CDC recommends that you wear masks and maintain a two-meter distance. This may seem a little awkward, but in the spirit of the holidays, show your friends and family that you care about their wellbeing by protecting their safety. 
While it is undeniable that the rules and restrictions in light of Covid-19 will alter our usual Christmas realities, there are dozens of ways for you to enjoy the holiday season within these guidelines. Ultimately, we are all in this together, so my advice to you is to hunker down with your housemates, put on some Christmas movies, and get in the holiday spirit!