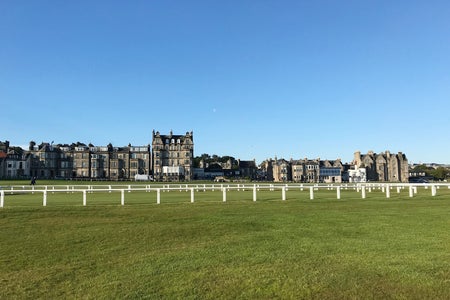 Original photo by Peyton Sarrail
Even before the decision from the University of St Andrews to fully cancel in-person teaching following winter break, there were numerous nation-wide and university specific petitions to reduce student fees and/or provide additional support for university students. The UK-wide petition to drastically reduce fees, found here, has already raised almost 600,000 signatures. Another petition was raised in 2020 to completely reimburse students and, as seen here, raised over 350,000 signatures. As the latter petition contended, the quality of school during the pandemic simply does not reflect what students feel they have paid for.
St Andrews has attempted to create opportunities for students still on campus through their Can Do Initiative that works to create spaces and events to meet safely. The current schedule of events under this initiative for April and May can be found here. As students have acknowledged, COVID-19 is obviously not the University's fault, nor is the need for online education. What's more, St Andrews has demonstrated clear attempts to provide as normal an experience as possible, but obviously these opportunities are limited by whatever government guidelines are in place at any one time. While this does seem to alleviate some of the complaints about having a normal university experience - in that the school is trying while still fitting into guidelines - the issue of online school presents a separate challenge.
As noted in many articles, students feel that online school does not provide the same experience as in-person teaching. This is to be expected with such a drastic shift from the norm, but this has not been reflected in a reduction or reimbursement of fees. Granted, there have been reimbursements regarding halls of residence for the time students have not been able to return to their accommodation. However, the difference in teaching has not seen any related tuition fee reduction, and Principal Sally Mapstone has warned staff of necessary cost-cutting measures due to losses of £25 million, as reported by The Guardian.
There have been other more specific petitions over the past year of pandemic times, especially regarding graduation. Students and higher learning institutions alike have been attempting to maintain education standards and a sense of normalcy, but there is only so much Microsoft Teams can do in place of in-person graduation and face-to-face interactions. There have been some steps made to assist students, both by St Andrews and more globally, but many feel the reduction of experience interpersonally and the implementation of online teaching has not been reflected by tuition fees. 
Admittedly, with many students unable to return, there is little that St Andrews can do whilst abiding by government guidelines. Specifically for international students, there are extremely tight quarantine and testing guidelines that continue to drain student resources, with students themselves responsible for hotel fees related to quarantine. So, without the ability to return to campus and almost entirely online classes for most students, calls for tuition reduction or reimbursement will likely continue until students can return to campus and in-person teaching restarts.