Staying Warm but Looking Cute: How to Layer Without Looking like a Snowman
As the season rapidly approaches the blustery, cold, and dark wintery days typical of a St Andrews December, the desire to be warm and cosy has a tendency to trump the desire to look put-together and elevated. While this is ENTIRELY fair, I wanted to share some tips on how to rug up and layer without looking like a snowman, for those days when you want to opt out of the classic sweats-and-a-hoodie situation.
Sweater Vests Sweater Vests Sweater Vests
Arguably the greatest life hack of 2020, sweater vests are the biggest autumn/winter trend we've seen in a while, and rightly so. They are so versatile, WARM, easy to find, and cool, quite frankly. If you don't have one already and are considering investing, there are hundreds of thousands currently available online from big retailers, available second-hand on Depop, or even in St Andrews charity shops. In fact, I just found a gorgeously ugly Christmas sweater vest in the Cancer Research charity shop on South Street over the weekend. To style, wear it over the top of a simple white or coloured tee-shirt, a white shirt, or a long-sleeved turtle neck, and pair with jeans. For more inspo, have a look on pinterest and have fun with it!
Turtle Necks are Your Best Friends
Equip yourself with some basic, close to the skin turtlenecks (I especially love these Uniqlo HeatTech ones). From here, the world is your oyster. Whether you layer it under a trend-forward sweater vest and pair it with some well-fitted jeans and sneakers, or underneath a crewneck sweater with a skirt, tights, and boots, I can guarantee that it'll have you looking and feeling cute, cosy, and put together. The trick is balancing the outfit. While your top half will naturally be more bulky due to the layering, pairing it with some well-fitted jeans or a skirt will compliment the look and return some form to your figure.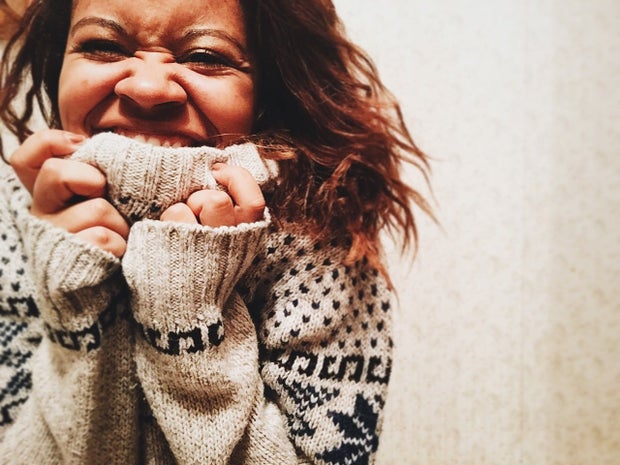 Celina Timmerman / Her Campus Shirts under Sweaters
Recently, I've been getting into wearing a simple white shirt under my more brightly-coloured or graphic v-neck sweaters and I must confess, I have been absolutely loving it. Wearing a shirt under a sweater not only adds a really great layer of warmth, it also gives your outfit a slightly more preppy aesthetic (which you can easily off-set with your choice of bottoms) that feels more put-together, and for me, that almost always translates into more productivity, which is never a bad thing in my books.
Cardigans Meet Coats and Blazers
Alternatively, a very easy option is to grab a knit cardigan before you walk out the door and pop it on underneath a coat or blazer. The benefit of it being a cardigan is that it should be able to tuck straight under the coat and remain out of sight, but it will undoubtedly add some much needed warmth without imposing on the sanctity of the fit.
Jumpers over Dresses
Another great way to use what's already in your wardrobe is to grab a dress, preferably midi or maxi, and layer an oversized jumper over the top. Bonus points if the dress is warm or dark toned. Match the dress with a complimentary jumper, i.e. neutral tones or a similar shade as the dress. Pair with some tall boots and voila, you look effortlessly chic and oh-so-warm!
December can be a really tough time with the looming threat of exams, reduced daylight hours, and the onset of winter, but hopefully these tips will help to spice up your fits and keep you warm in the meantime. Have some fun with layering this season, and get cosy with it!