Hi, Emma and Taylor here! We had the pleasure of visiting artist Holly Ballard Martz's show, "Dirty Laundry and Domestic Bliss," at Zinc Contemporary last weekend. Martz is an inspiring, Seattle based artist who in her own words, "uses language and found objects to create iconic works about deeply felt social, political, and personal issues, including mental illness, gun violence, and reproductive rights." Her artistic re-imagination of ordinary items leads us to question the normalcy of the world around us. The show we saw made a statement about sexism, brilliantly portraying the horrific objectification and violence that consumes a woman's life.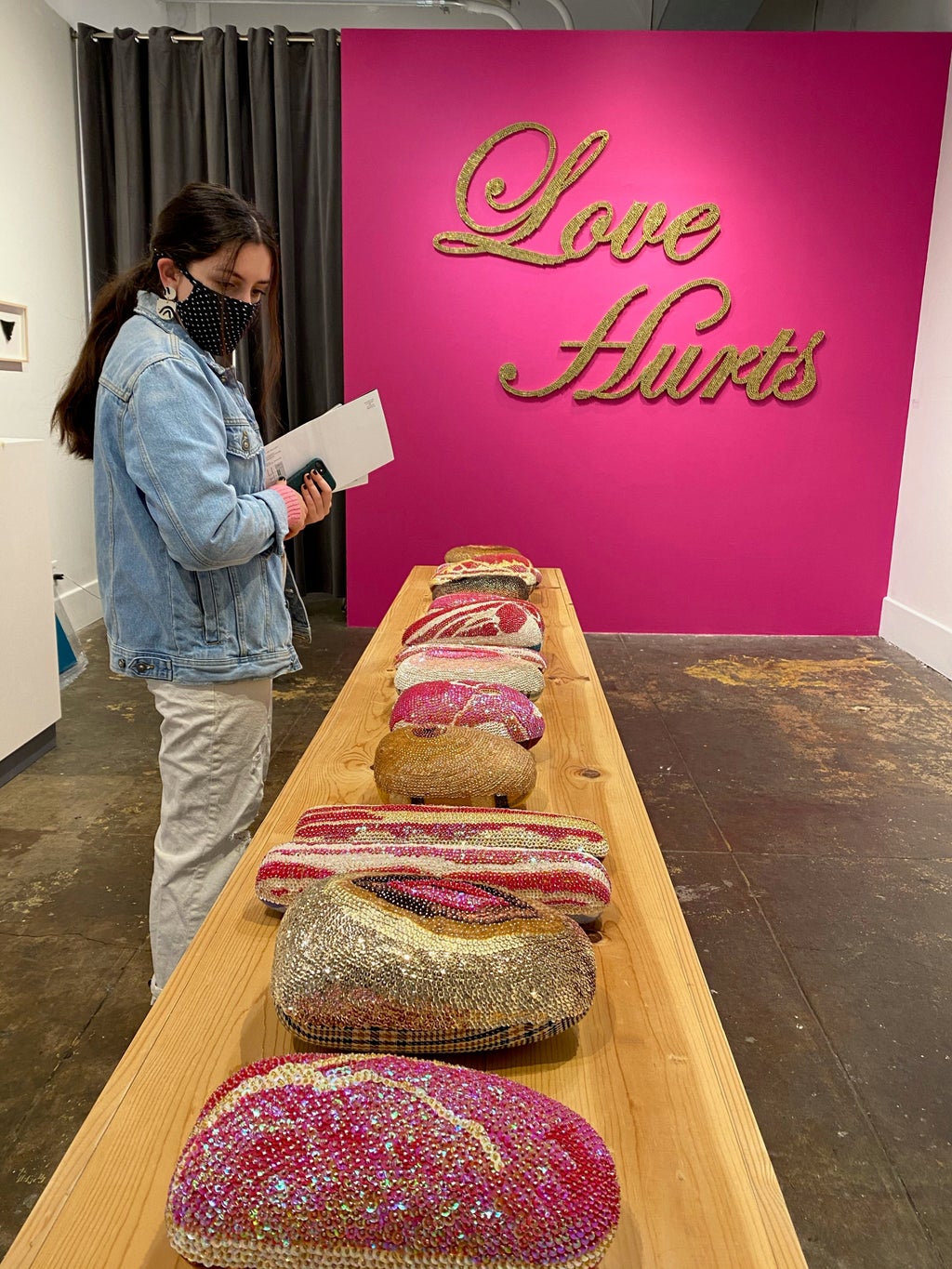 This photo above showcases Martz's layout of pillows that she hand sequined and altered. This piece is called "Prime Cuts" and contrasts depictions of vaginas and breasts alongside portions of meat. She created this to communicate the objectification that women's bodies often go through, as if we are subhuman. She includes diverse skin coloring on the represented body parts, taking initiative on the inclusivity and intersectionality of womanhood.
The wall behind the table clearly states "Love Hurts." While this piece seems to be incredible as is, there is actually another level to the brilliance. Each letter is made up of hundreds and hundreds of bullet shells. There are about 6,000 9mm spent shell casings covering the entire piece. This illuminates the problem of intimate partner violence and the prevalence of other instances of gender based violence.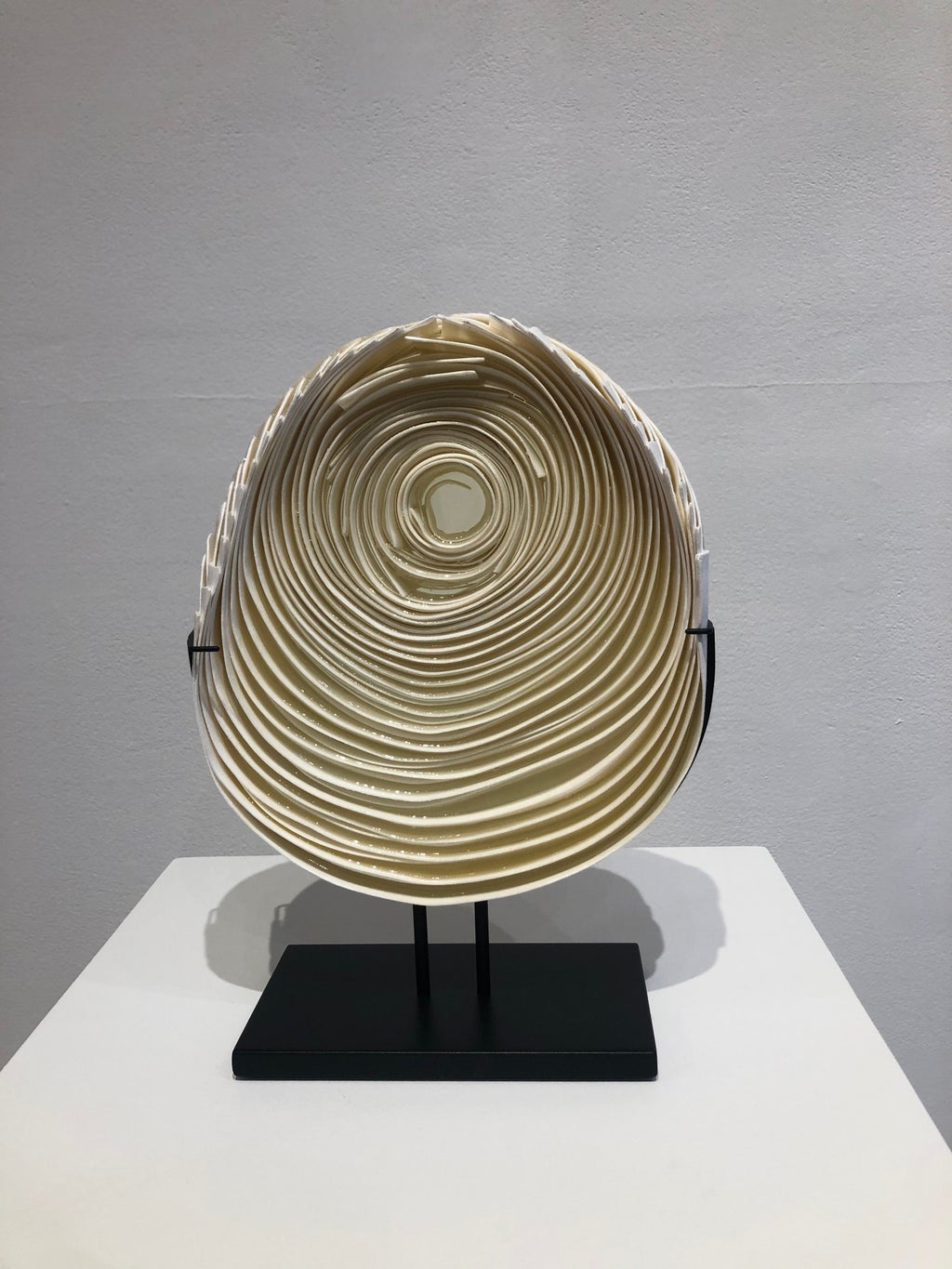 On the top, is Martz's piece made out of bra inserts. The two sections on the top and bottom are called "Cover-Up (bullseye)" and "Cover-Up (target)." The frame in the middle features "Double D (double standard)". These portrayals conjure up the relatable feeling of hypocrisy when it comes to our breasts. There is a duplicity at play, as society desires breasts as something that they want to see, while also requiring that they remain unseen. 
This luxurious swirl on the bottom is titled "Old Growth." It is made up of vintage men's shirt collars. Our takeaway is that this is supposed to represent the rings of a tree trunk, which identifies how old a tree is. To us, this represents the repetitive pattern of historical oppression that women have felt under the hegemony of men. 
Emma's Favorite: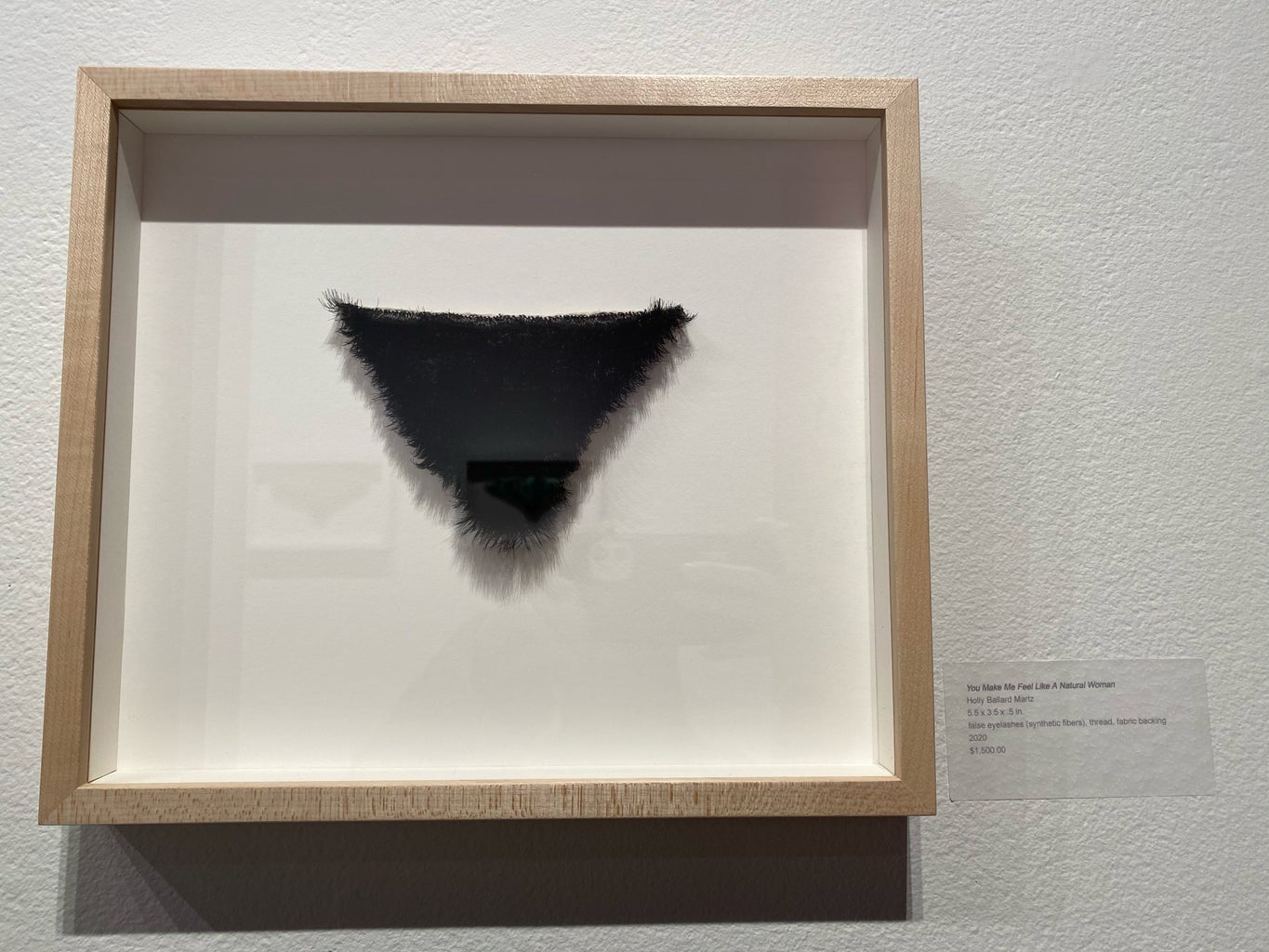 The frame above presents a depiction of a vagina called "You make me feel like a natural woman." Amazingly, this piece is made up of fake eyelashes, which seems to be a juxtaposition of the ideals of natural beauty in which its title glorifies. I wonder if Martz is also commenting on the odd construct created, that we are expected to take away hair under the belt, but add hair (aka eyelashes) to our face. I found this piece to be a clever statement on the modification necessary to fit beauty standards.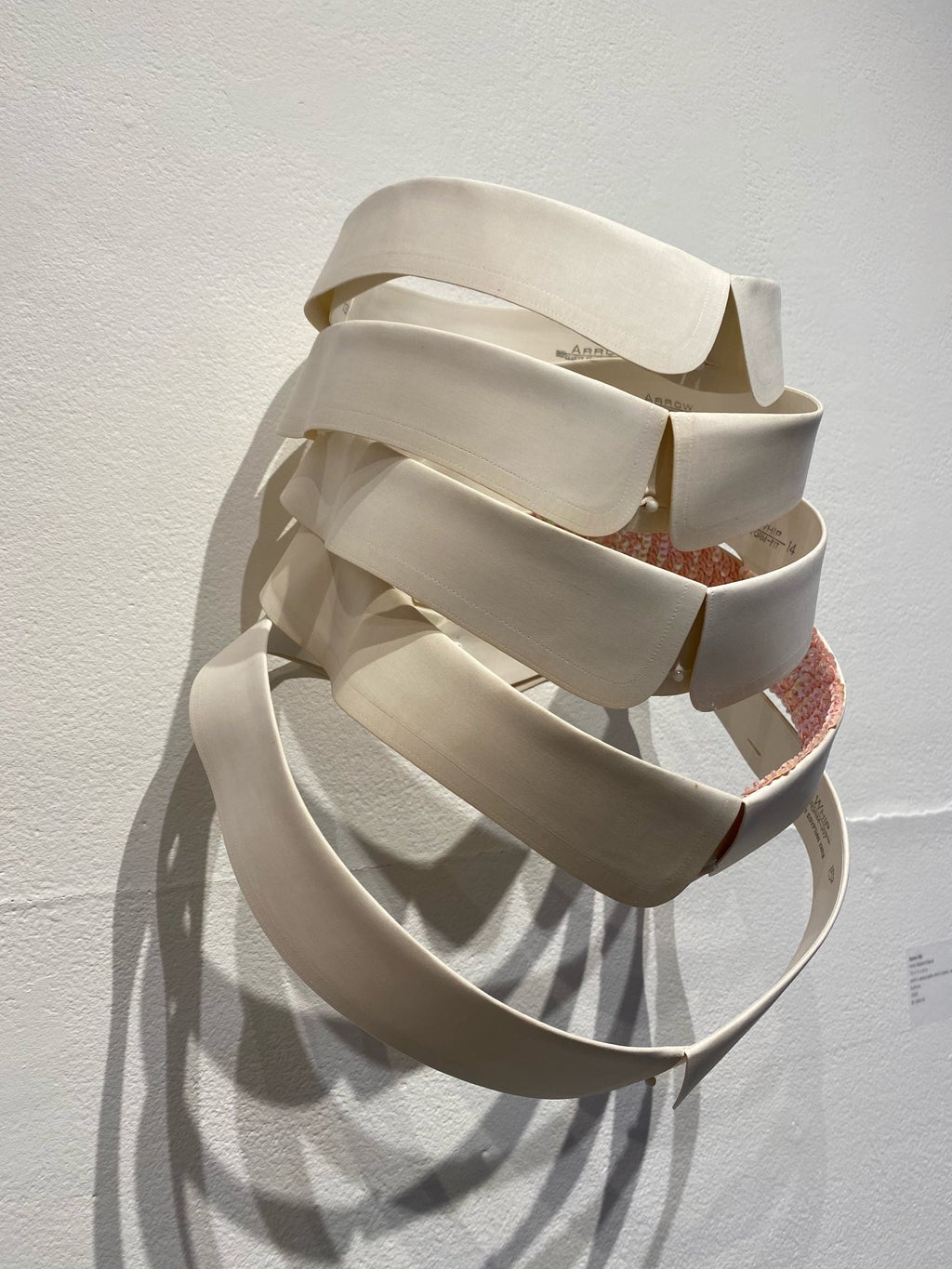 Taylor's Fav: 
In her piece, "Spare Rib," Martz created a ribcage-like form out of men's shirt collars. On the inside of one of these collars, pink sequins are hand-sewn to cover the surface. This piece was especially compelling to me due to its biblical implications. The title, along with the singular, more feminine "rib," communicates the traditional idea that woman was created from man's rib. Men's shirt collars and pink sequins are quite contrasting which draws equal attention to both elements. Hiding the sequins inside of the "rib" allows the viewer to initially contemplate the shirt collars before noticing the sparkly pink element inside. Finally, a more formal element that stood out to me was the use of lighting and space in the installation of this piece. The shadows beneath the form expand the ribcage visual onto the wall which adds to the metaphor in a more literal sense. This piece made me aware of the way women are often lost in men's shadows and overlooked as individuals.
Art is very much alive in Seattle, even during these unusual circumstances! Pioneer Square is home to several galleries, which are all free to enter to admire these artists' hard work. While we are sad to see Martz's show leaving ZINC this week, new and exciting pieces will be in the gallery soon! Gina Occhiogrosso's "Gathering & Easing" will be represented by ZINC November 19th through December 1st. This collection of paintings features beautiful contrasts of colors and organic forms in each composition. 
The galleries in Pioneer Square showcased pieces that were able to challenge the thought patterns of both a social justice advocate and an artist. As students studying these topics we found these tangible representations of our majors to be powerful. I (Emma) am studying Communication and Social Justice & Culture Studies, with a minor in Women's Studies. So, the ideological implications of these pieces spoke volumes to my inner activist. I (Taylor) am pursuing a degree in Visual Arts. Sometimes, as an art major, I feel overwhelmed in such a structured world. However, visiting this gallery reminded me that there are career artists out there who are paving the way for me and other creatives. We loved exploring the galleries, and are looking forward to seeing new art soon!