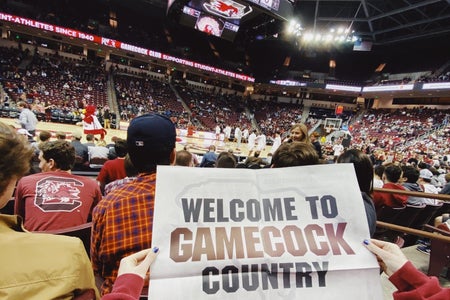 UofSC Women's Basketball: the Women, the Myths, the Legends
There are numerous reasons why the UofSC women's basketball program is the college standard right now. Here are just a few.
The Coach:
Dawn Staley is the GOAT in every aspect. First, her fashion sense remains undefeated. If you watch the games on TV, the announcers always comment on what she is wearing. Oftentimes she wears something of meaning, such as a pink shirt to show her support for someone she knows battling cancer. She is a Hall of Fame coach and player, has won 3 Olympic gold medals, and is now the head coach of the US national team, which will be playing in the Tokyo Olympics in July. 
Staley has coached at the university for 13 years. During those years, Staley has led the team to five SEC championships, six Sweet Sixteens, two Final Fours, and one National Championship in 2017. This year the Gamecocks have the potential to bring home another national title. Needless to say, Coach Staley has impacted thousands of lives, both as a player and a coach. 
Despite her work on and off the court, however, the real star of the show is her dog, Champ. He is always with her, whether that is at practice, a press conference, or anything in between. Champ even has his own Twitter account. According to Staley, Champ is the best thing that has happened to her (after the National Championship title, of course.)
The Team:
Beasts. Future WNBA legends. Hall of Fame talent. Every single week someone gets another award, honor, or nomination. The crazy thing is that the team has only one senior, Lele Grisset, and is predominantly led by underclassmen such as Aliyah Boston, Zia Cooke, and Brea Beal. The potential that this team has is infinite. Players such as Destanni Henderson and Victaria Saxton have taken on a bigger leadership role after Ty Harris and Mikiah Herbert Harrigan graduated and started playing in the WNBA. 
Scoring an average of 82.4 points per game and having about 50.8 rebounds per game, UofSC is one of the most dominant teams in all of women's college basketball. Zia leads the team in average points per game with 15.8 and Aliyah Boston leads the team with 44 blocks over the course of the season. Boston was also the ESPN and SEC Player of the week just two weeks ago and is currently in the running for the Naismith award, given to the best defensive player of the year. 
All of the players that play in Colonial Life Arena will leave a legacy on but also off the court. Many have stood up to social injustices that the US currently faces and have used their platform to promote messages of racial justice and equity. They handle both the critics and fans gracefully, while also remaining humble. That, in my opinion, is what makes this team so special. 
The next generation of Gamecock women's basketball players is already well underway, with South Carolina getting the best recruiting class of 2021. What does this mean? Hopefully that UofSC will remain a women's basketball powerhouse for many years to come.
There are limited tickets available to home games this season and CLA has appropriately designated seats to adhere to social distancing guidelines. I would highly recommend going to a game if at all possible as seeing them play in person is awesome. Check out the SC rewards app to see their schedule as well how to get tickets for their remaining home games.