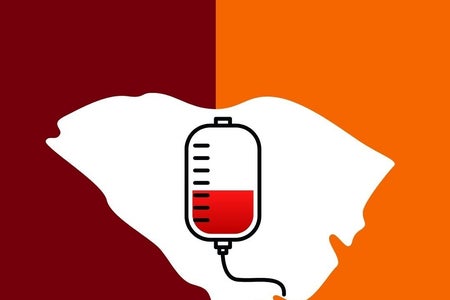 Original photo by Shelby Grys
Everything you Need to Know about the Carolina Clemson Blood Drive
Who?
The Carolina Clemson Blood Drive is open to all students, faculty, alumni and fans at both the University of South Carolina and Clemson University! Both schools are encouraged to donate blood to support a good cause and support their school.
What?
This year marks the 35th annual Carolina Clemson Blood Battle. Every year, both schools face off in a competition to see which school can collect the most blood donations. At the end of the week, the school with the most donors receives the blood drive trophy.
When?
From Nov. 18 to Nov. 22, everyone is invited to make an online appointment or walk in to donate. The blood drive will take place from 10 a.m. to 7 p.m. each day during the week prior to the infamous rivalry football game.
Where?
This year, the permanent locations each day are located at the Russell House Ballroom, Thomas Cooper Library and Close-Hipp Building.
However, there are also traveling locations: 
Monday- Blatt PE Center
Tuesday- Strom Fitness Center
Wednesday- Darla Moore Sonoco Pavilion & the College of Engineering and Computing
Thursday- College of Engineering Computing 
Why?
Not only is the blood drive a great way to support the Gamecocks, but it's an extremely important cause. According to the American Red Cross, every two seconds, someone in the United States needs blood. This may be in surgeries, in situations of trauma or other treatments. Tons of people across the country are in constant need. Blood is not something that can be substituted for an alternative and it has a limited shelf life. Therefore, it's important to have a constant flow of donations. You never know if you or someone close to you will ever be in a situation in need of blood, so pay it forward now!