Things to Do in Dallas: Fall Edition
It's Fall, y'all! And you know what that means: it's time to do Fall things! 
Fall is literally my favorite season, for multiple reasons: the weather is no longer blistering hot (yay sweaters!), it's the start of the holiday season (yes, I start the holiday season with Halloween), and it means all of my favorite things and activities are in their prime! Apple picking, pumpkin patches, apple cider, fairs, the obligatory pumpkin spice lineup at Starbucks, football and basketball, the Halloweentown films (yes, all four movies - CINEMATIC GOLD)... the list goes on and on. 
And now that it's officially in full swing, I have compiled a list of all the very best (IMO) Fall activities to do around Dallas:
Image via Blase Family Farm
1. Check out the Pumpkin Patch at Blase Family Farm!
Y'all. I am absolutely IN LOVE with this farm. Being in Rockwall, it's a little bit of a trek – but so worth it. Once you walk in, you're transported to the most Pinterest-y, rustic, epitome-of-fall pumpkin patch of all time. There are hayrides, a storybook trail – great if you have any younger siblings in tow – and of course, LOTS of pumpkins. Photo opportunities abound. 10/10 would recommend. It's open until October 31. ALSO: In addition to the pumpkin patch, the Blase Family Farm is actually a blueberry farm, where you can go blueberry picking in the spring!
Location: 1232 E Fork Rd, Rockwall, TX 75087
Hours: Monday-Friday 9am-6pm
Saturday 10am-6pm
Sunday 12pm-6pm​
Want a closer option that's just as fun? Try the Dallas Arboretum!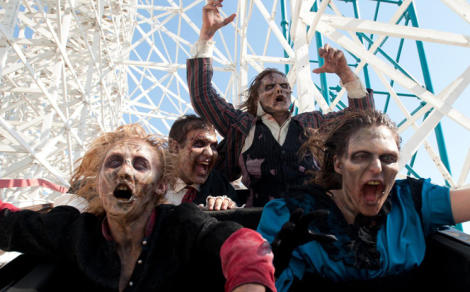 Image via Arlington.org
2. Hit up a theme park!
The State Fair is always an amazing (and HIGHLY recommended) outing, but if you weren't able to make it this season A) 100% make plans to go next year and B) you can totally still hit up theme parks, such as Six Flags Over Texas for their Fright Fest! Open until November 3, it's sure to get you in the spooky season mood!
Location: 2201 E Road to Six Flags St, Arlington, TX 76010
Hours: Daily 6am-11pm
Image via Society Bakery 
3. Feast on all the fall foods. 
Apple Cider and PSLs? It's not even a question. Pumpkin bread? Yes, please. Cinnamon rolls? Of course. Now is the perfect time to hit up all your favorite food stands and restaurants – or look up a recipe to make your own snacks and dishes influenced with all that Fall flavor. 
Cinnamon Rolls: Try Society Bakery! (Also: Their cookies are AMAZING!) 

PSLs: Starbucks (duh) - btw the Pumpkin Spice Cream Cold Brew is lit! 

Pumpkin Bread: Try this recipe!

Controversial opinion: Now is the time to stock up on the Holy Grail of the Fall season - Brach's Candy Pumpkins!
Image via Dallas Farmers Market
4. Go to the Dallas Farmer's Market!
The Farmer's Market is a STAPLE. Where else in downtown Dallas – which is just a short DART ride away – would you be able to indulge in all things Fall on the daily? Perfect for photo ops and scoring some goods.
Address: 920 S Harwood St, Dallas, TX 75201
Hours: Mon-Thurs 11am-7pm
    Fri 10am-8pm
    Sat 9am-7pm
    Sun 10am-7pm
Image via Wikipedia 
5. Binge watch all of your Spook-tober faves.
Of course, on days where you would rather stay home, nothing beats a movie marathon! Fall is the perfect time to binge all of your old favorites, from Halloweentown to Hocus Pocus. Here's a list of movies and franchises that are perfect for a lazy day:
Halloweentown (1-4)
Hocus Pocus
The Nightmare Before Christmas
Literally anything on the Hallmark Channel 
It's the Great Pumpkin Charlie Brown and A Charlie Brown Thanksgiving
Monster House
Monster Inc. (Not Halloween, but they're monsters so I count it)
Twitches
The Haunted Mansion 
Rudy 
Casper 
For those who like for things to get spooky:
Halloween
Saw
The Shining
Now go forth and prosper in the sub-90-degree weather!