5 Ways Singles Can Spend Their Valentine's Day
Valentine's Day is an exciting day to spend with your significant other by showering them with love and heart felt gifts. Or Valentine's Day can be a harsh reminder that you won't be getting free stuff. It can also be a day for you and your single friends to get together. It doesn't have to be so harsh, though. Here are 5 ways singles can spend their V Day!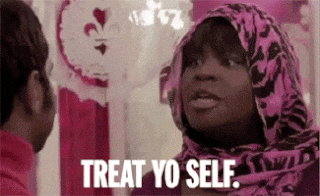 1. Treat Yo Self
Just because you are single, doesn't mean you can't indulge in the Valentine's themed products! Cheat with an adorable single serve heart shaped Cheesecake at La Madeleine, and many more Valentine's Day options. After you have devoured all your V Day sweets, take some time to yourself by soaking in a bubble bath with a bath bomb. To add to your at home spa treatment, light a some scented candles from Votivo in the scent Red Currant available on Amazon for $23.80. Now that's some serious relaxation!
Another way to reward yourself is to splurge on all the sales that are going on! Most of the candy you don't wish to spend a pretty penny on will now be in your budget! Go on and take advantage of your cheat day.
2. All the Single Ladies
Get all of your single ladies together for a fun night in! Have each gal pal bring a food dish, so you don't have to worry about finding restaurant on a busy holiday. Kick your feet up and get comfy for a rom-com movie marathon! Valentine's Day practically invented the romantic comedy genre and it wouldn't be a good Valentine's Day without one. Start off with a high school classic such as "Clueless," "10 things I Hate About You" and a few Molly Ringwald classics like "16 Candles" and "Pretty in Pink." If you are into really classic romantic movies, try an Audrey Hepburn cult favorite "Breakfast at Tiffany's." For those who prefer more modern-day classics, start off with "Fifty First Dates" which stars Drew Barrymore and a softer, but still funny, side of Adam Sandler. Then watch "Hitch" starring Will Smith, "Love Actually" with Hugh Grant, and to finish it off end it with the steamy "50 Shades of Grey."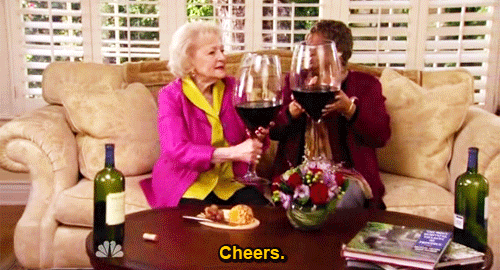 3. Wine Wednesday
This year Valentine's Day falls conveniently on Wine Wednesday. For an idea for a girl's night in for all who are 21+, invite your gal pals over for a few bottles (please drink responsibly). Have each of your ride or dies bring over a bottle and start your own wine tasting! You'll feel like you're in Napa Valley! Expand your palette by trying your BFF's fave wine. Talk about what you like in wine and what you dislike. Take this time to catch up with your girlfriends and relax in the living room with a full glass. For a fun conversation starter that will get a few laughs, bring up your worst dates you've ever been on. This is the time to celebrate with your girlfriends that you are a single lady and you can still make Valentine's Day fun.
4. Spend it with your pet
No one should ever be alone on Valentine's Day, so rely on your pet to give you that extra love.  Let your pooch know who's a good boy (or girl) with some delicious Valentine's Day treats (on Amazon for $16.98). Or for your cat, who could honestly care less, whip out a bottle of Pinot Meow Cat Wine (on sale at Meowingtons for $6.95). Let them on the couch for once and to snuggle with you, because your pets will always be there for you, not just on Valentine's Day.
5. Love yourself
Spend the day with the person you know the most, yourself. Maybe you're not into cheat days or spending money on senseless love themed products. You can treat yourself with a whole new meaning by staying at the gym longer, adding an extra step to your skincare routine or waking up early to make that fruit smoothie. Ease your anxiety by cleaning your place or taking the time to organize your planner for the next few months. Valentine's is not only a day to spread love and show compassion to others, it can be day where you show love and compassion to yourself.