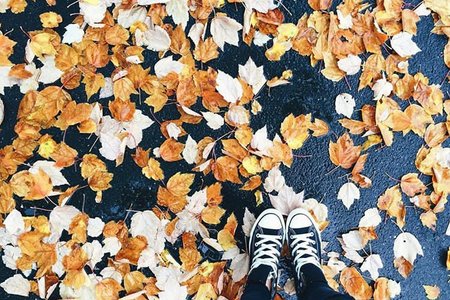 Some Extra (Pumpkin) Spicy Fall Fashion Essentials
My favorite thing about fall is the fashion. Forget about the pumpkin spice and crunchy leaves-- it's time to break out the chunky sweaters and boots! Autumnal style is so uniquely adorable, and the perfect way to get into the spirit of the season. Here are some absolute must-haves for your fall wardrobe this year!
Flannels: This might seem obvious, but flannels are super fun and cozy pieces to incorporate into your fall fits. Since California weather is so weird and temperamental, flannels are the perfect, versatile outerwear option. You can style it by tying it around your waist during the warmer part of the day, and throw it on when it gets chillier.
Chunky Sweaters: These are perfect for those of us who are a little bit more self-conscious. A big cozy sweater is not only comfortable and cozy but modest and cute. No need to worry about any wardrobe malfunctions with these!
Boots: My personal favorite, boots are the perfect footwear. I love breaking out my Doc Martens in the fall! They look super cute with everything, from casual leggings to chunky flared jeans. Depending on what kind of boots, they can be super comfy as well!
Windbreakers: Not really the typical vision of fall fashion, but for those of us who prefer a more athleisure, sporty look, windbreakers are totally the wave! They're light enough to not be a hassle in warmer weather but great for fending off chilly fall winds.
Hats: Gone are the Alex Russo days of shaming funky hats. Hats are the coolest accessories for fall fashion. I personally love a good cabbie hat, but beanies are adorable and super weather-appropriate too! Pair a cute hat with some pigtails or braids? *chef's kiss*
Blazers: These are a little harder to pull off, but are super classy. Pinterest is filled with outfit inspiration pics featuring oversize plaid and houndstooth blazers. Paired with a black turtleneck and some Chelsea boots, and you've got yourself the ultimate influencer-esque fall outfit.
Turtlenecks: Turtlenecks are a fun basic piece that can be styled in different ways. You can layer a thinner turtleneck with a sweater or a grandpa vest (a look that is ALL the rage on TikTok right now) or wear it under a blazer. You can even style it with a cute midi skirt for a more California weather-friendly option.
Tights: Now, tights aren't for everyone. But, if you feel comfortable enough to rock them, they can be a super fun piece to wear under a cute corduroy skirt with some little booties. For a more conservative look, you can wear them under some ripped jeans. The black meshing peeking out through the distressing makes for a fun little detail.
Obviously, these are all just recommendations. After all, your style should always be reflections of you and your personality. But, these are all things that you can try to incorporate for a little extra fall-inspired spice to your outfit. Have fun, and happy fall!