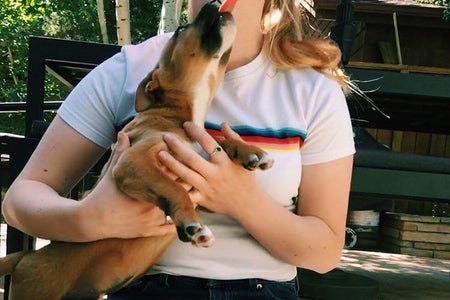 Charlotte Reader / Her Campus
Why You Should Adopt A Shelter Dog
Each year 6.5 million animals enter shelters in the United States, and 1.5 million of those become euthanized. Many of these animals, including my own dog Marley in the cover photo, were abused and suffered unbelievably before being adopted into loving homes. If you're thinking about adopting an animal, choose to look into an animal shelter before going straight for the puppies and kittens. Here are the many benefits of doing so: 
Rescue animals are usually up to date on all of their medical care
It can be costly to vaccinate your pets as well as get them screened for harmful parasites such as heartworm. Most shelter animals are up to date with their shots and are usually neutered or spayed. However, if you are adopting a dog from the south, remember to get the rescreened for heartworm, a deadly parasite that does require extensive treatment. 
You can choose to adopt an older animal 
For some who might want to adopt a pet, adopting and training a puppy or kitten can be a challenge, especially if you don't have a lot of time on your hands. A young animal is a commitment, and will require years of veterinary care and can be costly. Shelters have animals in a range of ages, and sadly older animals are less likely to be adopted and brought into loving homes. 
Older animals, especially dogs, are usually better trained and require less exercise. This can be ideal if you want to adopt a dog but do not have a large yard or the time to walk your dog excessive amounts every day. If you are looking to adopt an older dog, Old Friends Senior Dog Sanctuary is a nonprofit organization in Tennessee that fosters senior dogs and helps them get adopted.
Shelter animals are unique 
Not only do animal shelters have animals in a range of different ages, but these pets have so many different personalities and quirks to choose from. You can find an affectionate cat or a dog that likes to chase squirrels like Marley (featured in the cover photo). 
Adoption can be a scary and confusing transition time for any animal. It may take weeks or even months for your pet to adjust to their new environment and become comfortable with you. Allow them time to adapt and for their true personalities to reveal themselves. But remember that adopting an animal, especially one that has been neglected or abused, can be a risk. Certain animals might not be as friendly towards children or other animals and may require training. Be prepared to support your new friend financially as well as emotionally. 
Most importantly, the best reason to adopt a rescue animal is to give them a loving home. Many of the animals who enter shelters and rescue organizations have been abandoned and abused. Bringing one of these into your home and watching them fall in love with their new family is one of the most rewarding feelings in the world. 
Pictured: 
On the left is Wendy, adopted over a year ago by my sister when she was six months old. Wendy's exact breed is unknown (although we think she is a mix of border collie, pointer, and hound) but she has grown into a very energetic and loving dog. Her best features include her caramel eyes and handle-bar ears. 
On the right is Marley, adopted about a year ago at two years old. Marley was abused and had puppies before she was adopted and has become incredibly attached to us (as well as spoiled) in the last year. Marley and Wendy are best friends and hang out all the time.