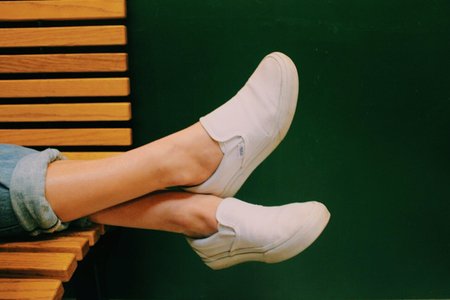 Anna Schultz / Her Campus
Shopping Ethically: Sustainable Shoe Brands That Will Last You All Year
Customers are more environmentally-conscious than ever. As such, society is putting their money behind retail corporations and independent businesses that show that their products are ethically, socially, and environmentally responsible. Doing this advocates for greater sustainability and protests harmful pollution by the fast fashion industry. However, the apparel industry still has some catching up to do. According to Andria Chang of Forbes, 1% of products introduced in the first half of 2019 could be considered sustainable. Sustainability costs money and because of that, it may not be an ideal choice for every consumer. Still, half of the industry expects to turn towards sustainable material by 2025. 
Sustainable fashion has become a full-on trend. Companies that have latched onto it (think Nike, Adidas) have been profitable while certain fast fashion companies (like Forever 21, who filed for bankruptcy) are suffering. Time will tell if this trend will grow or shrink. For now, it is important to spotlight businesses whose values consist of being environmentally and socially conscious. Ethical innovation is a cause to consider putting money behind, so here are some shoe brands who pride themselves on forwarding green fashion.  
Alice + Whittles is an Canadian retailer which specializes in sleek, minimalist rain boots, sneakers, and accessories. The company values transparency, ethical manufacturing, and worker empowerment. The rubber used to create the shoes is sourced from family run factories in Sri Lanka. They only partner with farms audited by the Fair Trade Rubber Association. There is little disadvantage to the environment since rubber does not require deforestation. It is sourced similarly to maple syrup. The rubber is harvested through the Forest Stewardship Council, an organization which sets standards for what is a responsibly managed forest. All FSC-certified forests (in which the rubber is obtained) are required to respect the land of indigenous people. Working conditions are also a priority. Alice + Whittles gives fair wages and contributes back to communities where the materials are made.  
Saola Shoes is a San Diego based retailer focusing on outdoor-savvy sneakers and sneaker boots. The goal of Saola was to make the shoe from as much recycled material as possible without sacrificing comfort and style. As such, the uppers of Saola Shoes are made from recycled plastic water bottles (more specifically polyethylene terephthalate). Each shoe contains between 4 and 5 bottles. The laces are made of organic cotton grown without pesticides. The top portion of the insoles are made from cork while the other portion is made from recycled algae foam and EVA. The algae allows the shoes to be made of 15-20% less synthetic material. The cork allows for foot comfort, ultimately molding to the shape of your foot.   
Avre is a California-born startup focusing on modern slide-on footwear. The business revolves around four core values, authenticity, versatility, responsibility, and empowerment. The founders started the company with the understanding that the industry needed to do better towards the environment. For each shoe, recycled plastics are taken, washed, and chopped into tiny pieces. These tiny pieces are melted and reshaped into smaller "chips." The chips are melted and turned into yearn. This material creates the upper portion of the shoe to ensure ventilation and comfort. This process enables the company to create footwear with 45% less energy use, 20% less water consumption, and ultimately less emissions.   
BEFLAMBOYANT is a Spanish unisex sneaker brand created by two entrepreneurs (Jorge and Tatiana) with a passion for animal rights and gender equality. First and foremost, gender neutral production is more sustainable (no need to produce separate shoe lines). Each shoe is certified vegan. The lining is made of microfiber manufactured with no carbon emission. The insoles are made of 100% recycled PU. The cotton is organic, the sole is 100% recycled thermoplastic rubber. In addition, for every sneaker purchased, the creator donate 1 euro to plant trees with the NGO One Tree Planted. 
Oka-B is a Georgia-based footwear brand which specializes in ballet flats, sandals, flip-flops, and wedges with an added southern charm. The brand began as a spa shoe utilizing reflexology and ergonomics to create the most comfortable slide which could also help with foot pain. It has grown into a sustainable brand for wear outside the spa. Since the factory is located in Georgia, the shoes travel 93% less than the average show purchased. The company takes pride in being an American made shoe which constantly takes action to reduce their carbon footprint. Oka-B sandals are made with around 15-25% recycled plastic. They are machine washable and built durably. The company has even started a program where they will properly recycle old shoes if mailed back. 
Indosole is a San Francisco-based footwear company that focuses on flip-flops, slides, sneakers, and unisex apparel. They are on a mission to become the most responsible footwear company available. The founder saw a huge problem in the amount of tire waste. When he made a trip to Bali, he was inspired to use this material in shows when he bought a pair of sandals made of motorbike tires. It is nearly impossible for tires to decompose and many times, they are left in junkyards and dumping sites. In tropical locations, they attract mosquitoes which spread malaria. Some resort to burning tires to get rid of them which leads to toxic fumes. In order to combat tire waste, Indosole uses them as material for their durable shoe soles. To repurpose this material, the company first intercepts tires going to landfills. They cut off the sidewall and into the shape of a sole. The upper portion of the is made from natural materials such as banana leaves, grass, and organic canvas.  
Etiko is an Australian-based footwear company that focuses on sneakers, flip-flops, and various women's, men's, and children's apparel. This brand is on track to a net-zero carbon emissions target to be complete this year. They also utilize organic cotton, natural rubber (from Sri Lanka like Alice + Whittles) and ensure no animal glue is used creating their shoes. IF you purchase a product, it will arrive in FSC-certified cardboard to eliminate as much packaging waste as possible. At times when they absolutely must use plastic, it is biodegradable and compostable. In addition, the brand has been recognized for its social responsibility. It greatly audits their facilities and employs worker empowerment initiatives. 
Sources
https://www.forbes.com/sites/andriacheng/2019/10/17/more-consumers-want-sustainable-fashion-but-are-brands-delivering-it/#4838cbaa34a5
https://saolashoes.com/pages/sustainable-shoes
https://avrelife.com/pages/about-us