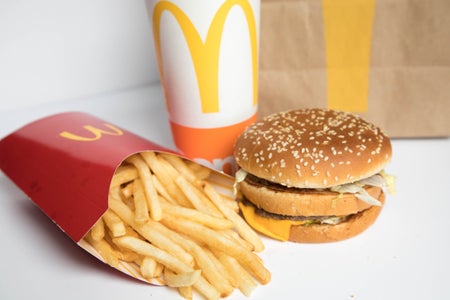 I Tried the Travis Scott Burger So You Don't Have To
On September 8th, McDonald's released a burger meal with the collaboration of Travis Scott. 
Unless you don't pay attention to rap culture as a whole, you probably know the song "Sicko Mode" with Drake and remember Travis Scott performing with Maroon 5 at the Super Bowl. If Travis Scott is still not ringing a bell, he dated Kylie Jenner on and off for a few years, and is the father of Stormi. 
Anyway, back to the burger.
The commercial advertises the Travis Scott Meal as a Quarter Pounder burger with lettuce, tomato, onion, ketchup, mustard, cheese, pickles and bacon along with medium fries and Tropic Berry Sprite. Instead of having Travis Scott in front of the camera, the advertisement has a Scott action figure moving and dancing. It even highlights the somewhat old meme of him with the microphone stand above his head. 
After skimming through Instagram and watching the commercial, I was on my way to McDonald's to try it out. The McDonald's I went to had a giant poster in the window advertising the new meal. The manager came out with my order and he told me that they have sold so many Travis Scott burgers just in a short amount of time. It's unbelievable how excited people were to see their favorite rapper advertising a fast food restaurant that is so unhealthy, but yet everyone can agree it is so delicious too. 
I can't tell you what Gordon Ramsay would say about the burger, but I was actually somewhat impressed by this. I am a very picky eater, so I removed all the condiments and toppings from my order except for cheese. 
The burger was expected. It was greasy but it also released all the happy hormones, so I felt like I was on Cloud 9 eating it. 
I don't know what it is about Tropic Berry Sprite, but it was delicious. I don't drink soda at all, but I was surprised just how sweet and enjoyable it was! 
Let's just say that everyone knows the taste of a perfectly fried McDonald's french fry. My fries were cooked just the way I like them which made the whole experience a 10/10. 
For $6, it was worth every penny. It was worth dancing to "Sicko Mode" in the kitchen while I ate. It was worth the soda and the perfect fries. I can't give a super accurate review about the Travis Scott burger just because I am so picky, but I am definitely ordering this again.