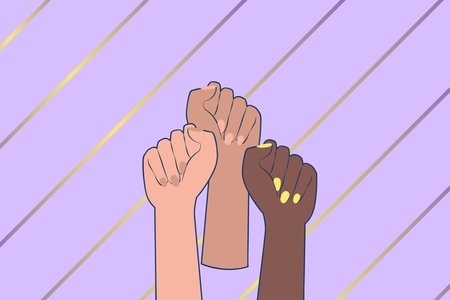 Original Illustration by Gina Escandon for Her Campus Media
Four Black Suffragists You Should Know
The icons we know from the movement for women's suffrage may have had different opinions and tactics, but they for the most part have one thing in common: they were all white. This year, for the centennial of the 19th Amendment, I'm thinking about the Black leaders, and how their suffrage wasn't ensured until the Voting Rights Act of 1965.
In the suffrage and abolitionist activist movements of the 19th and 20th centuries, many Black women faced the erasure of belonging to both disenfranchised, oppressed groups. Some felt that there was an expectation that they picked a movement, and worked with either issue. Many courageously chose to ignore this erasure. 
Charlotte Forten Grimké was both an abolitionist and a suffragist. Born in 1837 and surviving until 1914, Grimké was active in the Boston abolitionist scene in the 1850s, writing for prominent publications such as The Liberator. She called for African American women's participation in the abolitionist movement, and worked alongside abolitionists such as William Lloyd Garrison and Lydia Maria Child. Later, in 1896, Grimké helped establish the National Association of Colored Women in Boston, an organization that was actively involved in the suffrage movement. (1)

Frances Ellen Watkins Harper (1825-1911) was also active as both an abolitionist and a suffragist. Perhaps best known for her poetry, she also gave many successful lectures including one delivered in New Bedford, MA, titled "Education and the Elevation of the Colored Race," that launched her success. Her passion for education fueled her career, and she worked to call for equal rights and access to education for Black women. She was also a founding member of the American Woman Suffrage Association. Later in her life, she became the Vice President of the National Association of Colored Women. (2) 

Mary Church Terrell (1863-1954) was the daughter of formerly enslaved people. Her father became a successful businessman;  graduate of Oberlin College, she was able to use her elevated class status as a means of helping her have the resources to become an activist. Terrell's words, "lifting as we climb" became the motto of the National Association of Colored Women, of which she was the founding president. As a Black woman, she put words to the struggle: she belonged "to the only group in this country that has two such huge obstacles to surmount…both sex and race." Terrell was also a founding member of the NAACP, and following the passage of the 19th Amendment, she continued to be an activist for Civil Rights, until her death at the age of 90. (2)

Ida B. Wells (1862-1931) was a skilled writer and journalist who worked to amplify voices of African Americans and the violence they faced, especially in the South. During her career, Wells travelled abroad and voiced her concern about white women in the suffrage movement ignoring lynching and other acts of racially-motivated violence. Her strong stance against racialized violence and civil rights alienated her from many white suffragists in the United States, but she nevertheless remained active in the community that fought for women's rights. Wells was a founding member of the National Association of Colored Women, as well as the NAACP. (4). 
For more information on these women, check out these sources!