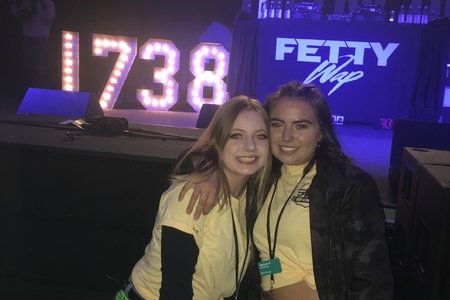 Abby Luscier is currently a sophomore at Siena College. She is involved in a variety of activities on campus including, Student Events Board (SEB), Habitat for Humanity, Environmental Club, Pathfinders, and a bunch of intramural sports.
Image by Abby Luscier
Her Campus Siena: Tell me a little bit about yourself, and why you chose to come to Siena.
Abby Luscier: I have a sister and a little baby niece named Ruby, who is super cute. I also live locally in the Troy area so I am close to home. I chose Siena because they gave me the most money, but also had a very tight knit community feeling on campus.
HCS: What is your job at SEB?
AL: For SEB, I am one of the Siena Night Life co-chairs, and plan a variety of events that take place on Saturday nights. We contract vendors, other clubs, or try to come up with the ideas ourselves.
Image by Abby Luscier
HCS: What types of events does the Student's Event Board put on?
AL: One of the biggest events we do is Sienafest, and Siena Night Life (SNL), and put on the glow party specifically. We also contacted vendors in order to get roller skating, laser tag, inflatables and many other vendors to the campus. One of our most popular events is bingo, and we get over 600 students to attend each time during the semester.
HCS: What has your favorite event been that you have helped create and why?
AL: This event is currently taking place, and has been the most fun to create, which is the MarioKart tournament. In the first minutes advertising this event, 20 people signed up, which was a great start. Now, close to 50 people have signed up, with two days left of sign ups. I am very passionate about MarioKart, and play with my roommates basically every night. Even though I am unable to participate in the events, I help them run smoothly and it is exhilarating to watch them flourish.
HCS: How has working for SEB enhanced your Siena experience?
AL: Being on SEB gets me involved with other clubs and meeting new people. Another benefit is getting a ton of free merchandise and Siena gear. The highlight of my freshman year was definitely getting to meet Fetty Wap at SienaFest!
Image by Abby Luscier
HCS: What is your favorite part about working at SEB?
AL: Planning and coming up with new events to bring the college campus and students together. Also, during Sienafest we are able to get more behind the scenes, and this was when I was able to meet Fetty Wap, and got a free backstage pass! It was a great experience that I would not have had without being a part of SEB.
HCS: Would you recommend incoming students and current students at Siena to join SEB?
AL: Yes, it is very fun and enjoyable if you like being creative and want to get involved! The only downside is the amount of hours we put in for each event to only last around three hours, but I would still recommend it!
Image by Abby Luscier
Make sure to go to SEB events!