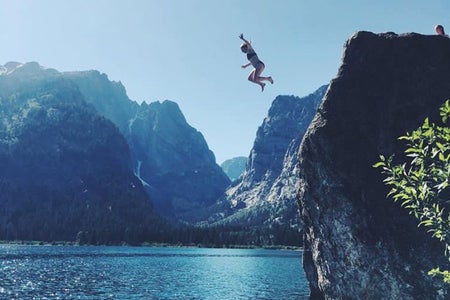 Charlotte Reader / Her Campus
In October 2019, my amazing adventure abroad came to an end. I was excited to go back home and see my friends and family. Homesickness was setting in again and I was jumping for joy the day I was dropped off at the Brisbane International Airport. I couldn't sleep on the 21+ hour plane ride back to America. My mind was racing with what it would feel like to be back in my hometown and back at college again. 
It's said that when you come back from studying abroad you're on this "high" for the first month or so. But, reality eventually sets in. I didn't want to believe it, even though it happened to me. For the first month home, I was glowing. I looked forward to meeting up with college friends, sharing my stories and hearing about their lives. 
Then, got a job and life just seemed to be good. I felt like my best self during those three months home. When I realized that time was flying by and I soon would be back at college, that "high" faded away. I didn't want to go back to college, I was ready for my next adventure abroad. I was doing anything I could to avoid having to go back to college or even thinking about it. At one point, I remember searching up flights to Switzerland at some point because I wanted to look forward to another trip. 
When move-in day came around, I cried for an hour after my parents dropped me off. I just felt like I wouldn't fit in with my friend group and felt that things have changed. Over the two-month period that I have been back at school, I have definitely faced some challenges with myself. First, I had to adjust to living with another individual again. 
Back in Australia, I had the luxury of having my own room in the 6-person apartment, and then I went home where I had my own room, so having to share a room was a challenge for myself because I was used to having my own space. It definitely has it benefits because my roommate and I both wake up at the same time and go to bed around the same time, and we have some great bedtime talks. 
The biggest challenge I have had with myself is in my relationships with myself and with my friends. There are days where I feel like I don't fit in and I feel lonely even though I have an amazing support system at Scranton. 
At times, I notice that some have moved on with their lives, more than I could've imagined, and it feels like I was just thrown into the mix of it all. It has been very difficult to adjust to it all especially with the added stress of junior year, but I have spent time exploring the ways I can learn to be okay with the situation. 
I hope that with time things will fall into place and I will find my way again.