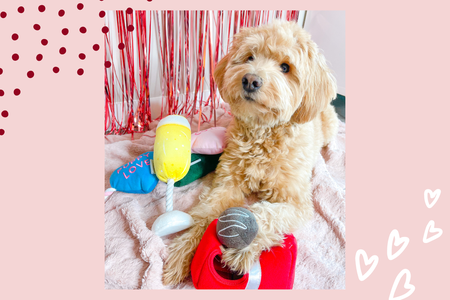 5 Things You Need if your Dog is your Best Friend
Is your furry friend the absolute light of your life? Do other humans pale in comparison to your four-legged roommate? Is being a dog parent your life's greatest pride and joy? If your dog is the center of your universe (as they should be!), then here are ten things you absolutely need to get your hands (or paws) on. 
1.

  A super safe (but also a little hilarious) dog seat belt 

2.

A pillow that looks like your dog, because why not? 

3.

A dog treat baking mold  

Nothing says "I love you" like a home-cooked treat! Show your pup your appreciation with these adorable silicone molds that allow for super simple treat-baking. There are tons of recipes available online, and many can be altered to include all your dog's favorite goodies! They are available in a variety of dog-themed shapes like bones and paw prints and the results are sure to be a hit with your furry friend! 

4.

A simple yet effective paw cleaner 

5.

A Bark Box subscription 

 

Have you ever experienced the joy of getting a subscription box in the mail? Maybe it was filled with makeup samples, or your favorite snacks, or maybe you're even old enough to remember the days before streaming when a Netflix subscription brought movies to your door (hello, medieval times?). If so, you know just how exciting it is to get goodies in your mailbox. Doesn't your pooch deserve the same excitement? Bark Box is a subscription box that dog owners customize to include all of their dog's favorite snacks and toys. Before you know it, your dog will rejoice at the sight of a carboard box showing up at the front door. The Bark Box service is the perfect way to thank your pup for all the joy they bring you.