Music has always been a huge part of my life and always will be. When everything else has gone wrong in the world and I was at my lowest points one thing was always there. When life hit me with bullying, ADHD, family losses, a school where I knew no one, a major change, etc. Music has played a role in where I find a home, in high school, in college, at competitions, traveling, in awards, with friends and family. I am such a huge music nerd. I am a singer but also an instrumentalist. I mainly play the piccolo, flute, french horn and mellophone.
Music has been a home for me. When I was in school I would play/practice before school, lunch break, and after school. I would spend all day singing and playing just to feel at home and that I belong somewhere. I have made so many life choices based on where I could continue my passion and love for music because I wouldn't be the person that I am today without music in my life.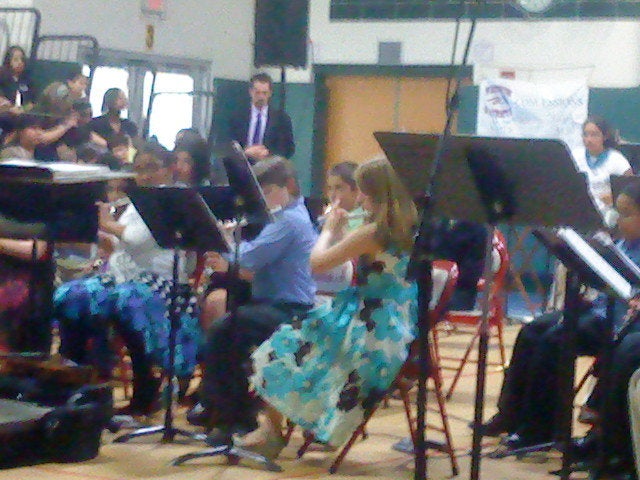 (Pictured: Elementary Band Concert)
When I got into high school, I was quick to join a music ensemble, and as I got further into my high school career I joined more and more music groups. By the end of my senior year I was in Symphonic band, concert band, beginning band, marching band and concert choir. I decided that during my senior year I wanted to learn a new instrument, so I picked up and learned the french horn. I have so many fun memories from being in those ensembles but also not so good, but the good far outweighs the bad. After competitions and football games we would all go out and get tacos or go and grab ice cream. Before football games, the marching band would all chill in the band room and play games until the pizza arrived. The band was its own little family where everyone had a place no matter who you were: a nerd, jock, theater kid, popular students, etc. We didn't care if you had a label because when you entered the doors of the band room, any other label didn't matter.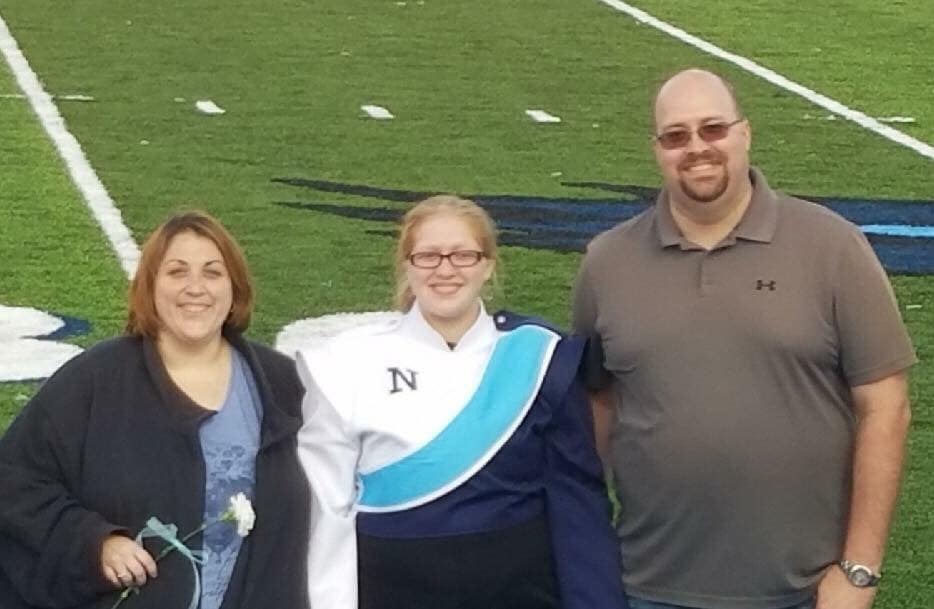 (Pictured: Senior night for High School Marching band with parents)
My whole flute career gave me many opportunities and some involved competitions. I loved getting the chance to work on a solo for a few months and really seeing how the work paid off but also getting time to have a partnership by working with an accompanist which we don't get in full group settings. Just being on stage alone and performing feels different. The first time I did it, I won't lie I was scared, but I quickly fell in love with playing on a stage and competing against other flutes. I was really good at it too because I took home a lot of rank 1s and medals along with trophies. I got to show that I was more than just what my band did and I had the opportunity to audition for State, even though I never made it. I will say that I did learn a lot.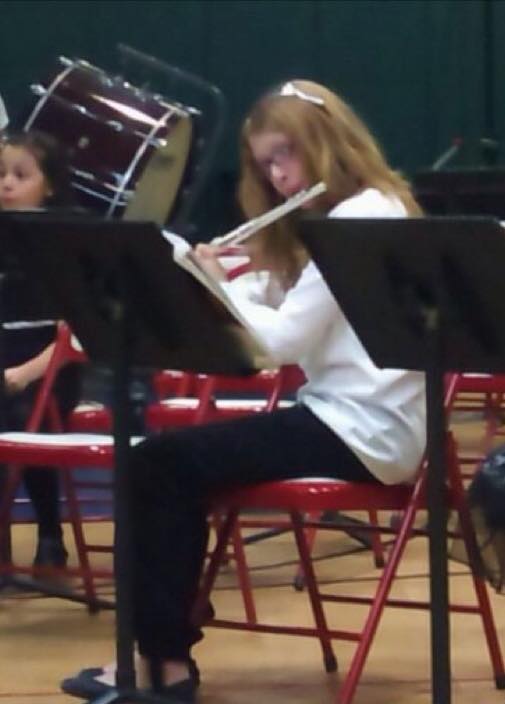 (Pictured: Myself playing flute in Middle School)
High school also gave me the opportunity to play with a choir I also sang in. I sang in the choir and for one song named Rui Rui Chui it had a flute part that they needed to fill. She was looking to go to someone in the band and some of the students reminded her that it could be me. She was nervous at first because it was during my competitive season, but I assured her I could handle it, and I played it perfectly when it came to the concert day and in rehearsals. This gave me the chance to play with a choir but also taught me how to balance not to a band or with just a piano, but also with voices, which is harder than I thought it would have been because the quieter they sing, the softer I need to be which is difficult to produce a quality tone and clear sound in the highest registers of a flute.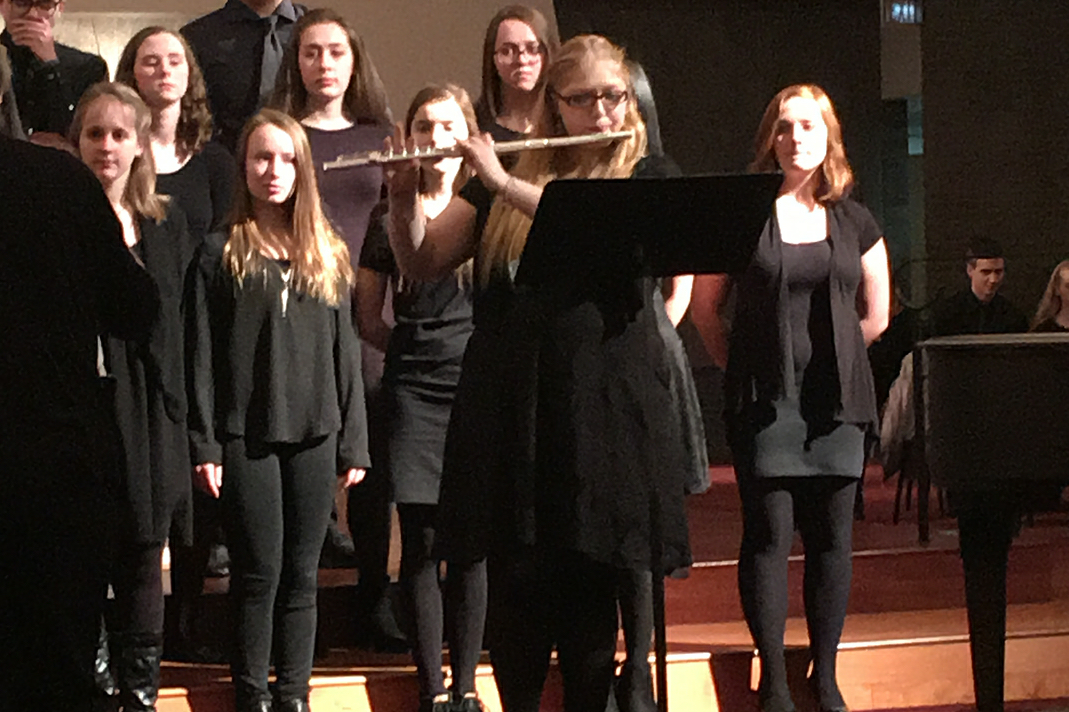 (Pictured: Me on flute with my high school choir at Nazareth Academy)
My high school career was coming to a close and I had auditioned for college ensembles for both instrumental and vocal. I wanted to get a scholarship if it was possible to help lower the price of college tuition. There was just one more event at the end of my time in high school before graduation which was the senior awards ceremony. I received three awards that day of which 2 were for music and 1 non-music. My non-music award came from the American Legion which was given to 1 female and 1 male from the graduating class that showed courage, honor, leadership, patriotism, scholarship and service. The seniors and faculty at my school voted for me to win this award and it came with a scholarship to help pay for some college. They also read the reasons on why I got the award and some were because of my leadership skills which I developed on sports teams and in the band. Scholarship with school and music competitions. Service because of how I gave back to the community and the work I did with girl scouts. Courage because of how I had applied to attend the Coast Guard Academy. Honor is how I treated others even if things were rough. The music awards were for Outstanding Performer(Choral) and The Director's Award (Band). I won the Choral award for not only singing in the ensemble but also playing the flute on top of having the opportunity to sing solos on multiple occasions. I also was one of the few sopranos who could always hit the high notes no matter what piece of music was given to us. I also won "king of the hill" basically every time I was challenged. I also was section leader for the 1st sopranos for 3 years. I won the band award not only in high school but also in middle school when I was graduating, so it was a huge accomplishment and proud moment when I heard I was receiving it again and that a second band director had believed that I deserved this award. I received this award because I was always willing to help teach and work with other members. I had begun learning a secondary instrument as well which was completely different from what I already played. I had a primary instrument of flute and piccolo and voice but then added the french horn. I was coming in 2 times a day just to practice my instruments and sometimes what I played wasn't always music for a concert or competition. I was one of the first people to learn my parts. I may not have been the first chair, but I had a great work ethic. I also worked/wanted to be trained in many styles of music, so I would spend a lot of time learning music from other cultures and I preferred them over classical music. Cultural pieces just are more fun and have something special to them that you don't always get from the white male composers.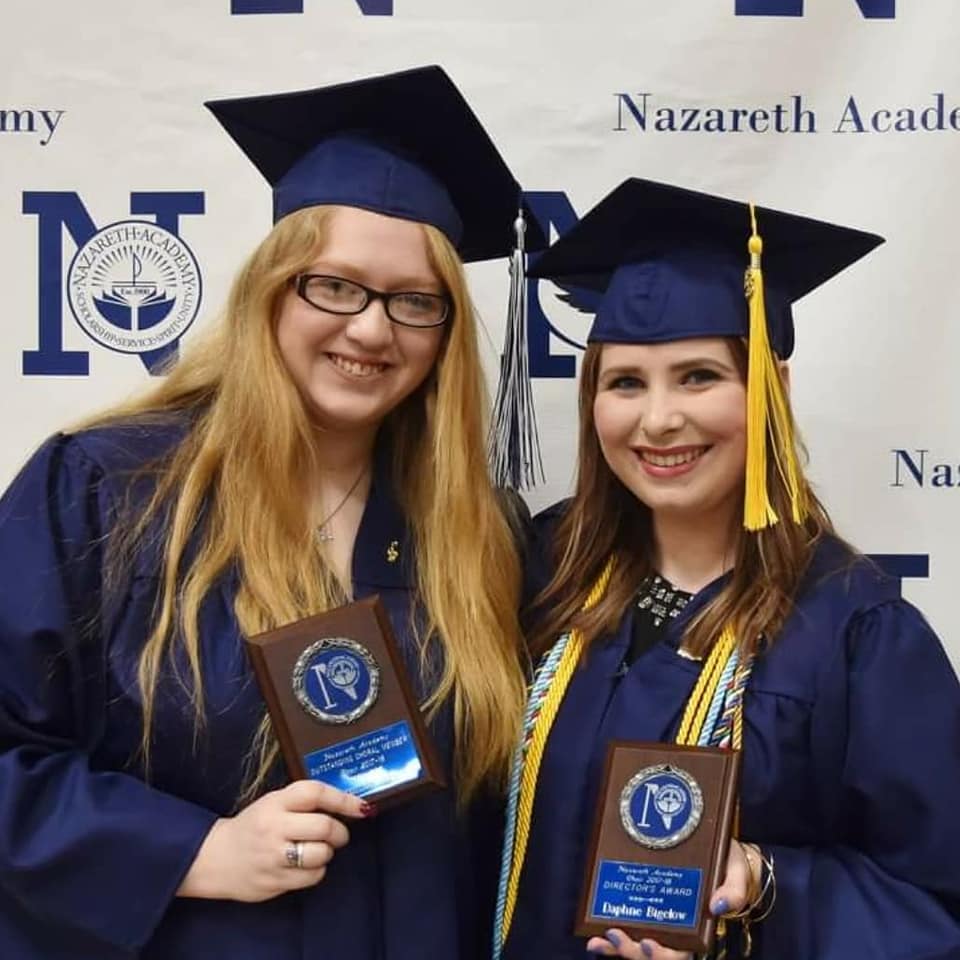 (Pictured: Daphne and I winning the Choir Awards)
My high school career came to an end, but my college career started off grand. My first year at St. Ambrose and I was a part of the University Choral, Symphonic Band, Athletic Band (Marching Band), and Pep Band. Music was still a huge part of my life. After my freshman year over the summer, I got a chance that I will never forget. I got to travel with the band and play the flute in IRELAND! I got to take part in multiple performances, listen to other colleges from Ireland play, see some of the sights, have my first legal drink since their drinking age is 18, travel to a different part of the world, and do it with my friends.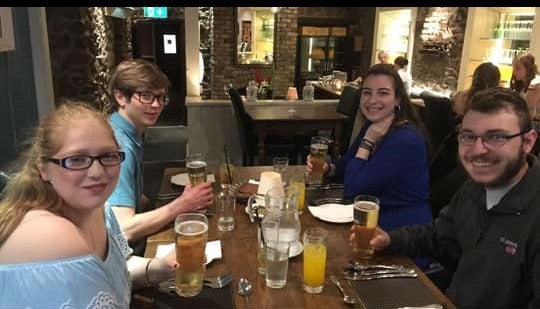 (Pictured: Ryan, Tala, Myself and Andrew having dinner in a restaurant/pub in Ireland)
My sophomore year of college started off well with me being in the same four ensembles listed above, but I also got to take part in another one which was Bella Voce. This choir was an all treble group which means all female. This gave me the opportunity to sing with eight other ladies. It was something that I had never done before, and it made me work even harder because there may not be someone else or only one other person on your part. I was also a part of this group for the fall of my junior year, but when the spring came, we didn't have enough interest to keep the group and still haven't which makes me sad, but I am glad that I did get this opportunity while I could.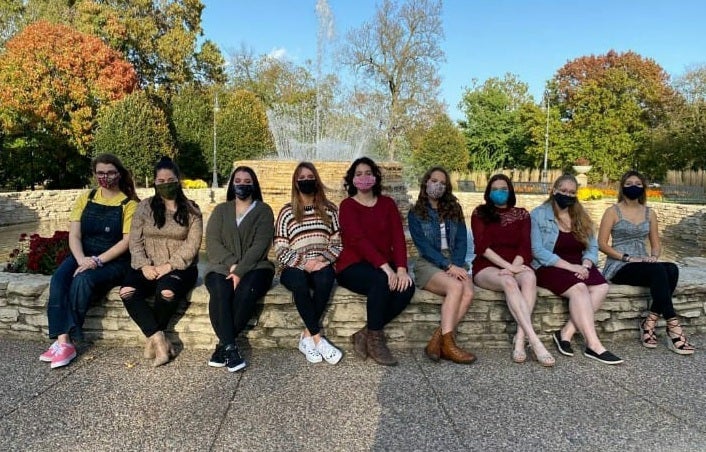 (Pictured: Fall 2021 Bella Voce Members: Grace, Elena, Ashley, Caroline, Nuala, Brittany, Cassie, Myself and Amy. Not Pictured: Julia)
Now to my senior year of college. I won't be graduating this year because I changed my major, but it is the end of my athletic band career and possibly the other music ensembles, but that is still undecided at the moment. I have learned a lot from my time playing, but the biggest take away is the friendships you create because they are what makes or breaks the ensembles. I have some great friendships that will last a lifetime. I have had so many opportunities that I will never forget or regret because of what they have given me. I am excited to see where I get to go in the future with music, but wherever that is I will be grateful and excited.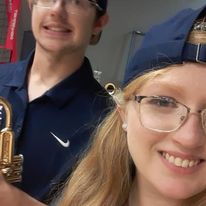 (Pictured: Andrew and I at Pep Band)