Fall in my Hometown and my College Town
Fall is my favorite season, as well as many other girls out there and I could not blame them. With the beautiful colors, the wonderful smells, and the delicious food and drinks that are seasonal, who wouldn't love Fall?! However, a lot of things have changed recently and it is a bit difficult to have fun. Even just being away from home, there are things I enjoyed doing those people in Iowa don't even do. That's crazy! In this article, I will write about what my Fall seasons looked like when I was at home.
One thing I did miss when I was at home during the fall was walnut harvesting. Not only did I get to go out and exercise, but I got paid by doing it as well. The harvest money depended on the number of walnuts that were collected the year before. This year, it's $15 for 100 lbs, so I am missing out on good money this year.
Some Halloween activities I used to do are ones I am going to miss the most. Every year, my younger sisters and I would go trick or treat around town, and at the end of our haul, we would swap candy with each other. After we were done with that, we would watch a Halloween Movie and sometimes a Christmas movie. At our house, the Christmas season begins November 1st. 
Photo by Clint Patterson from Unsplash
A thing that is keeping me in the season's spirit as I am away from home is my Bath and Body Works collection I brought with me on campus. With scents such as Pumpkin Latte and Vanilla spice, I am less stressed. The Starbucks on campus is also in spirit as well with the White Hot Chocolate and the cute themed desserts in the cafe. 
Some of the activities on campus and all around Davenport look fun to do as well. There are pumpkin patches, corn mazes, farmers markets, and other fun, yet safe things to do out there for the crazy season we are having. If you are looking for something to do, the first thing I recommend is sweater shopping. That was one of the first things I did when Iowa all of a sudden got cold. Some cozy slippers and fleece blankets would be some ideal things to buy as well. As the hallways, especially where I am staying, tends to be a bit chilly at night.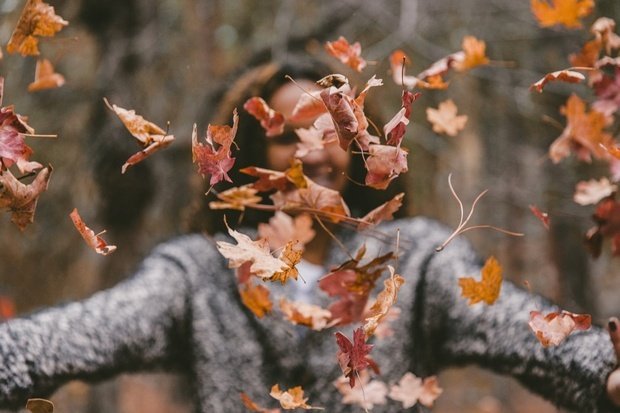 Photo by Jakob Owens from Unsplash