Back Bones of the Marching Band Part 2
This is a series on the Back Bones of the Fighting Bee Band. There will be multiple parts to this that covers several of the people/roles that help the band function. The St.Ambrose Marching band is still a young program that is only a few years old. This band was built by students, for students and run by students. This means that the band is run by Leadership and ProStaff. Students audition for the SLT(Student Leadership Team) each year and go through training to help run the band.  You will learn about the band and what it means to several members of the staff. 
This article focuses on the Drum Majors that help the band function. We have three drum majors every year that help run the band in rehearsals, performance, etc.  For this interview we will be hearing specifically from the current Drum Majors and from the past. The Drum Majors have a very important role. Let me introduce you to the current and graduated Drum Majors.
Let's Meet the Current Drum Majors
Erin Robertson is a sophomore and first year Drum Major. This is her second year with the fighting bee band. She is majoring in Music Education with a concentration in vocal music and a minor in psych. Before she held this role she was in the color guard. She is a singer in several choirs here. She joined color guard her sophomore year of high school. This band has given her opportunities to learn and grow with her peers along with making new friends. In the time that I have known Erin she is very dedicated and works hard. She is knowledgeable and passionate about what she does. Erin is outgoing and is great and creating bonds with other people.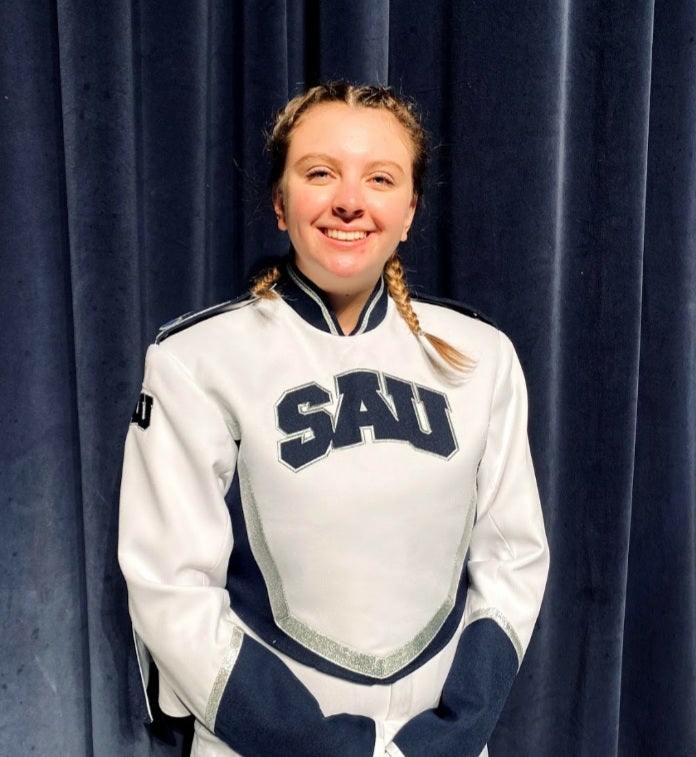 Michael Campbell is a junior and first year Drum Major. He is majoring in Music.  Before he held this role he was on the field staff team and was a part of the high brass section playing the trumpet. He plays the trumpet and tuba. Michael has played trumpet for 11 years. He has been in the winds ensembles here for 3 years and semi recently joined the choir. He is not only a drum major here but he also did it in drum corps for a summer as well. In the time that I have known Michael I have got to see his love for music and wanting to try new musical instruments. He is such a fun person and works incredibly hard.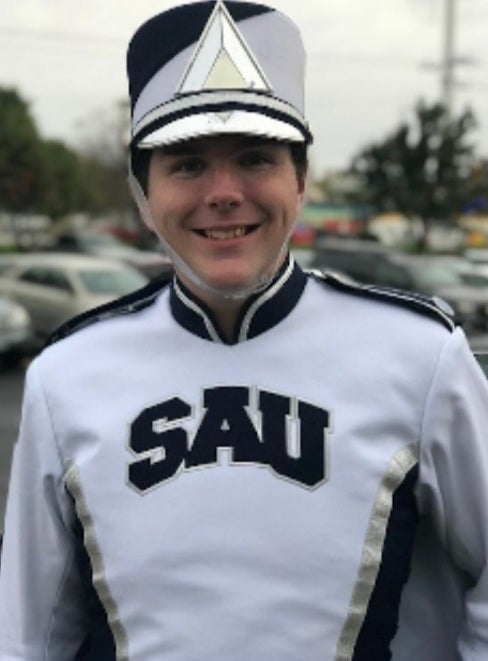 Tala Dimintroff is a junior and second year Drum Major. She is majoring in Music Education with a concentration in instrumental music. Before she held this role she was in the color guard but has also marched trombone in the ensemble. She plays the Trombone. She is also a work study member where she is also the administrative assistant. Tala has been in band since 5th grade. She has played in symphonic band, jazz band, marching band, brass choir, and brass quintets. She is an All-State Orchestra player in Illinois. In the time that I have known Tala I have got to see her really fill into her leadership role. She is not afraid to step up and be proactive. She is also a positive person.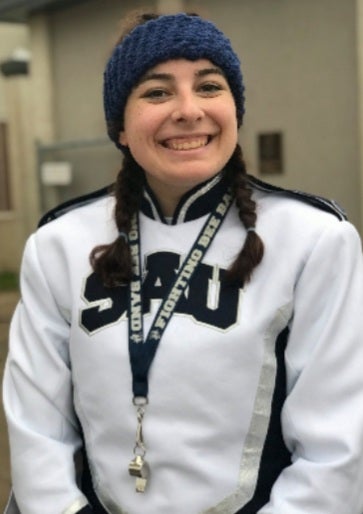 Let's Meet some of the Drum Majors from the Past
Kelsey Weatherford was a Drum Major in the Marching band for a year. Before holding that position she was a member of the saxophone section specifically the alto saxophone. Kelsey has played saxophone for 12 years. During her undergraduate she majored in Exercise Science and is working on her doctorate in OT by 2023. She has been a part of the marching band for 7 years and 3 of which she was a drum major. She did jazz band for 7 years and concert band for 9 years. Kelsey won her high school's Louis Armstrong award. Kelsey participated in several honor bands and state ensembles. She is currently working towards her capstone project that involves music in OT.In the time that I have known Kelsey I have never seen someone more positive, proactive, energetic and always willing to help everyone. Her positive attitude is infectious and lights up a room. She was a strong leader and communicated very well with also being easy to talk to and work with.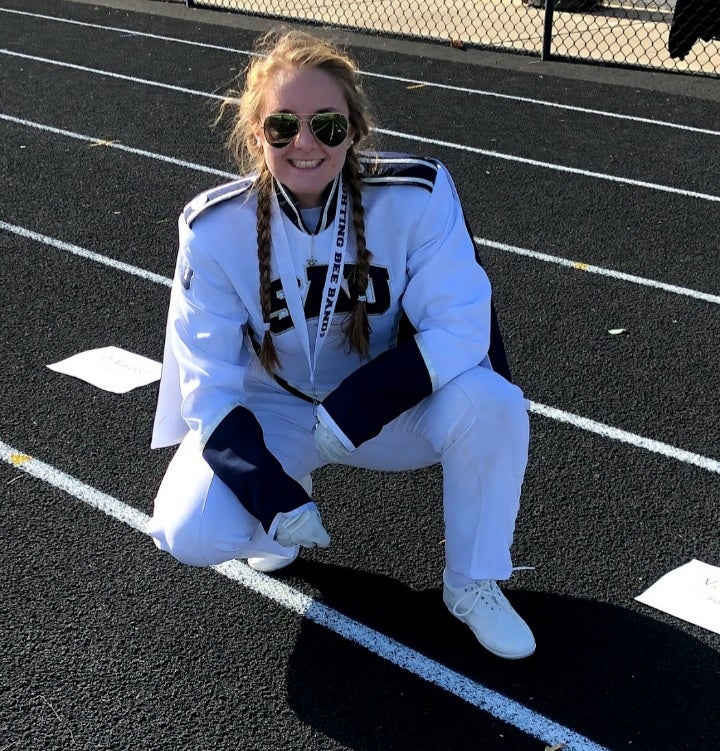 Terrence Shubert also known to many as TJ was a Drum Major in the Marching band for 3 years. Before holding that position he was a member of the low brass section. He was also a singer in our ensembles. When he wasn't on the podium he marched the sousaphone. TJ loved matching band in highschool so he decided to continue in college to help a new program create traditions within the band. He said that being in the marching band and in leadership built his confidence and taught him valuable leadership. In the time that I have known TJ I got to see him grow as a person and as a musician. TJ was always willing to help others and had the best 'Dad Jokes'. If you ever needed a laugh or a smile he was always there to put one on your face with his jokes.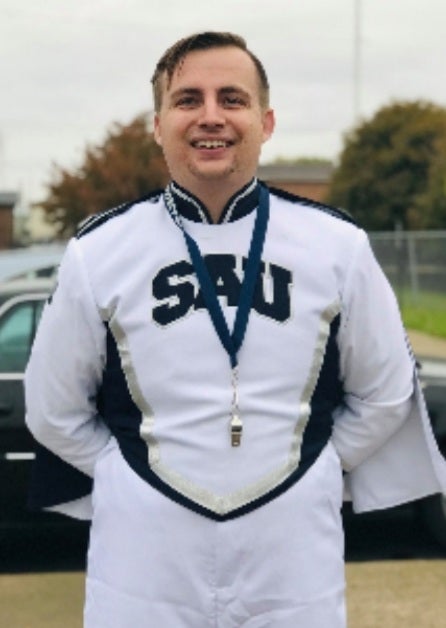 Being a Drum Major Means
The role of the Drum Majors is important because of all the things they do. Drum Majors are essentially assistant directors as Erin put it best. They are often doing so much more work then we see because it happens behind the scenes. These people are expected to plan and run rehearsals, plan out the logistics of pre-camp along with band camp, running the metronome on the back of the field, handling the first aid kit, catching flying music, checking uniforms so they are presentable, and so much more. In order to be a drum major or hold any leadership position you must audition. The audition process for being a drum major is the longest one with 4 different parts. During their auditions candidates must conduct the band, run a rehearsal, show their marching skills and have an interview. Just because you are drum major one year does not mean you hold the role for the rest of the time you attend St.Ambrose. All leadership positions including drum majors must audition again every year that they would like to be a drum major or any leadership position. You also don't have to be a music major to audition to be a drum major any major can audition. To be a drum major they must have certain characteristics or at least a basic foundation of them. The characteristics are communication, willingness to help others, music knowledge, a role model, able to learn and be open minded, able to work with others, is hard working, is able to control their emotions, and is able to learn from their mistakes. 
When they all were asked what they wanted to leave the band with they all had their own memories and thoughts but there seemed to be a theme or multiple things that multiple people had said. One thing is that you are always going to be learning regardless of how much material you do or think you know. Another thing was that you can work hard and have fun at the same time without them needing them to be mutually exclusive from each other as Michael stated best. Overall they agreed though that they wanted to leave this program better than when they had started their roles and their time in the fighting bee band. 

Words of Wisdom
"Never stop bee-lieving in yourself. There are some times when school, work, and everything in your life seems like it's crushing you. Don't forget to take a deep breath, take some time for your mental health, and then get out there and kick some booty! We all have a lot of drive and fire inside of us, it's what we do with that fire that makes us who we are. Keep sharing your musical (or any other) talent with the world, let your passions shine!" -Kelsey
"I'd like to leave an impact on how to have a great time and also be successful. Working hard and having fun aren't mutually exclusive!" -Michael
"Always be open to new things. You never know what you are going to learn if you keep a closed mind." -Erin
"Never be afraid to take risks." -Terrence
"Don't be afraid to try! Whether it be to try out for a position, offer help to an SLT member, or share an idea with the DM team and Megan Cooney, the band was built for students by students, so you must be bold and try even when you are afraid. Music makes us brave and the FBB family makes us strong." -Tala
Photo Credits: FBB Media & Marketing Manager