What is the #GucciModel Trend and Why Am I So Obsessed?
The new TikTok fad that's taking up space on everyone's phone screen right is the #GucciModel trend. What does this entail you might ask? The trend consists of you dressing up in front of your camera while an audio plays in the background telling you what to wear. This audio asks you to put on many different layers of outerwear, brightly colored tights and boots, and finish it all off with a trench coat and head scarf. At the end, miraculously these girls don't resemble Joey wearing all of Chandlers clothes, but instead they look like legit Gucci Models!
I love this trend because the secret trick designers have used for years is finally making its way to the public, it doesn't have to match it just has to go! When pairing your clothes together, there is a limitless amount of combinations you can choose from. NEWS FLASH none of these combinations are wrong! I'm a firm believer in wearing whatever you want and trying out new and different approaches to style (I'm here for a good time not a long time lol!).
Just the other day I walked into my History class and was beyond thrilled to see he was wearing quite the outfit. He had on a light pink button up shirt, a red tie, army green slacks, brown shoes, and paired it all off with a blue and white stripped seersucker suit jacket. Woah!! Now I'll admit I chuckled a little at first sight, but after thinking about it I realized if I saw that outfit in a magazine on a beautiful model I'd be all for it!
Basically what I'm saying is, have a little fun with your look and be open to trying new things! That's what I think the #GucciModel trend represents, basically fashion is an illusion and all you need is confidence! If you wanna start experimenting with your look but don't know where to begin, I would recommend a few basic style tips to help you get going. Try wearing your favorite graphic tee under a differently patterned dress for a funky mismatched look! Maybe throw on a pair of colorful tights with your next dress or skirt, or even try rocking two different earrings! Just be creative and strut your stuff!!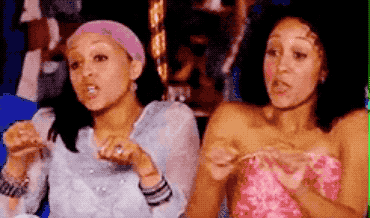 Carla Singer Productions Broomsticks Productions via Giphy