Good Habits to Start Off the Semester With
At the start of a new semester, we are all striving to work hard and do our best. Now is the perfect time to change up your routine for continued success. Establishing these good habits at the beginning of the semester will help you stay focused and motivated all year long.
1. Wake up early
The greatest benefit to waking up early is productivity. Morning's are more peaceful with less distractions. You have more energy in the morning than you do after a long day of classes. Take this time to study, make progress on an assignment, or go to the gym. You'll feel great knowing you've accomplished something with your day before your classes have even begun. If you're looking to start waking up earlier, don't feel like you have to do anything drastic. Start by waking up 15-30 minutes earlier, and gradually increase until you've reached you're goal.
2. Actually read the syllabus.
More specifically, pay attention to the course schedule. Make a note of due dates on your phone or in a planner. Assignments won't sneak up on you, and you'll want to begin them earlier knowing when they are due so far in advance.
3. Create a daily list of goals.
Writing down a to-do list everyday allows you to clarify the tasks you want to accomplish with your day. Include homework assignments, study time, and even things like doing your laundry or going grocery shopping. Crossing a task off your list and seeing your progress will feel really satisfying.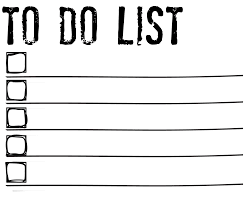 4. Exercise regularly.
It's important to take a mental break every once in a while to help you de-stress. During a long day of studying or starring at a computer screen, use exercise as a way to re-set and refocus. Spend an hour in the gym, or attend a fitness class offered on campus. If you don't have too much time to commit to exercise, go for a quick walk or jog, or spend 5-10 minutes stretching.
5. Stay positive!
Attitude is everything. Having a negative attitude will just increase your worry and stress. It's important to remember to stay positive no matter how overwhelmed you are feeling. Things are never as bad as they seem. A positive mindset will allow you to cope more easily with the challenges your day may bring.